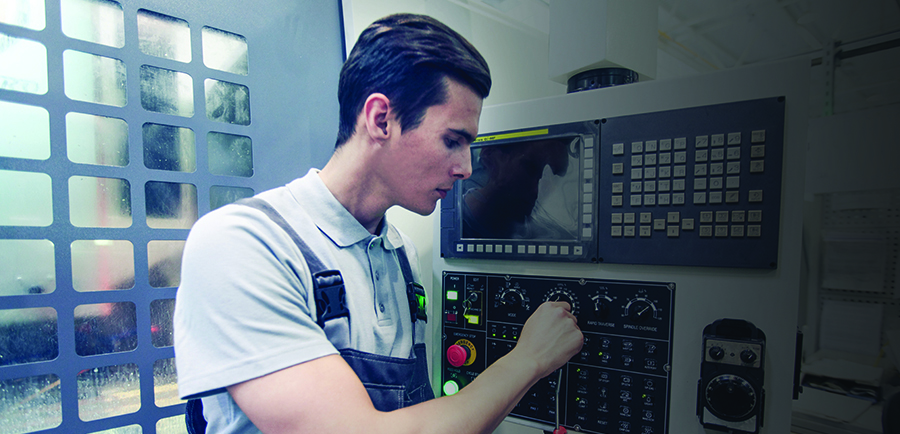 Envision solutions.         
Program machines.         
Make cool stuff.
BECOME A CNC PROGRAMMER.
A CNC (computer numerically controlled) programmer works with machinery that cuts raw materials into functional items. CNC programmers are responsible for interpreting project blueprints, designing programs and setting up machines to produce necessary components. They must perform test runs and make adjustments until the resulting product meets blueprint specifications. CNC programmers are also charged with performing machine maintenance and cleaning.
CAREER OUTLOOK
Through 2026, there will be about 240 annual openings in the state of Michigan – a growth rate of 15.7 percent – for. Billing and posting clerks compile, compute and record billing, accounting, CNC machine tool programmers, metal and plastic. The statewide wage range for this profession is $20 to $29 per hour.
MCCC PROGRAM OPTIONS FOR THIS FIELD
Associate of Applied Science Degree
The associate of applied science degree with specialization in Product and Process Technology is a two-year program designed to prepare students for careers in the high-performance manufacturing of consumer goods. This degree will provide students with a foundation in manufacturing design, precision machining and tooling, and complex computer-aided design and computer-aided manufacturing (CAD/CAM).
In addition to the two-year associate degree program, MCCC offers a certificate program in Product and Process Technology. The program concentrates upon basic core courses with skill development and job upgrading being the primary objectives. The college offers two certificate options in this area: CNC Technician (17 credits) and CAD/CAM Technician (17 Credits). All courses taken in the certificate program are applicable toward the associate of applied science degree.
Transfer Opportunities: Bachelor's Degree
Although applied science and engineering technology programs are designed as career programs for entry into jobs after the completion of a certificate or associate degree, MCCC has transfer agreements with several universities. The University of Toledo, Wayne State University, Eastern Michigan University, Ferris State University, Lawrence Technological University, Michigan Technological University and Siena Heights University allow direct transfer of several of MCCC's two-year applied science and engineering technology programs.
MCCC students can complete a Siena Heights University applied science bachelor's degree right on the MCCC campus.
Many MCCC graduates earn a bachelor of engineering technology degree after receiving an associate of applied science degree from MCCC. Some students use their technical credits earned at MCCC as their area major in teacher education programs.
Request Program Info
Use the webform below to request program info.