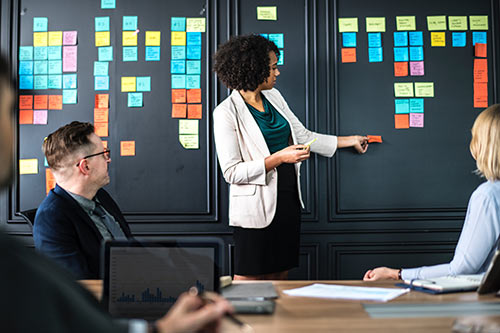 Need help landing that job while in college or breaking into your career of choice? MCCC offers a number of helpful services related to job/career placement.
Career Counseling
The counselors in the Admissions and Guidance Office can help you obtain the decision-making skills necessary to organize the knowledge of values, interests and opportunities necessary to select a career. Career assessments are available through a career counseling session. Call (734) 384-4104 for a career counseling appointment.
Career/Employment Search Assistance
The Office of Workforce Development assists MCCC students, alumni and Monroe County residents in seeking employment. Whether you are searching for your first career-related position after graduation, looking to change jobs, hoping to find a part-time job or just trying to gain experience in your field while in college, the Office of Workforce Development is here to help.
To access our career services resources, register with the Office of Workforce Development. This system allows job seekers to search for openings and post resumes and credentials. 
Every attempt is made to include accurate and current information regarding each of these postings, but please be aware that postings are subject to change without notice.
Annual Career Fair
A few weeks prior to MCCC's graduation ceremony each spring, the college, in partnership with a number of community sponsors, hosts the Career and Opportunity Expo, a career fair that brings together students, alumni, colleges, employers, veterans and community members. Nearly 75 organizations participate each year.
Student Assistant Positions
MCCC students are hired for a significant number of positions at the college, including many that provide experience that is applicable in specific fields of study. These jobs are part time with a maximum of 20 hours per week. It is the commitment of the college that the candidate is a student first and an employee second; therefore a student's class schedule is reviewed and work hours scheduled accordingly.
Students must be enrolled for a minimum of 6 credit hours during the fall and winter semesters of employment.
How to Apply: To review and apply for student assistant positions, a candidate must register with the Office of Workforce Development (www.collegecentral.com/monroeccc). After registering, fill out the Student Assistant Application. Then, e-mail it to workforce@monroeccc.edu or drop it off at the Office of Workforce Development in the La-Z-Boy Center. The office will then forward the application to the appropriate department or division for consideration.