FALL 2023 FINANCIAL AID VOUCHER PERIOD BEGINS AND ONLINE BOOKSTORE OPENS FOR ORDERS STARTING – AUGUST 1, 2023.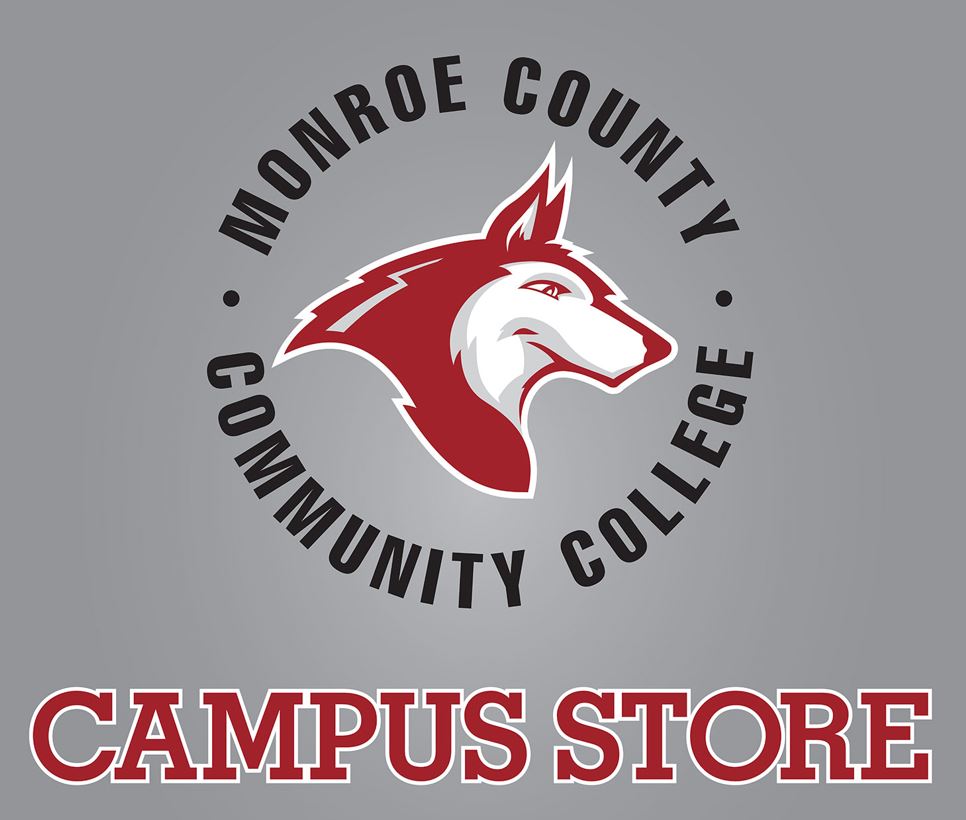 Located in the Warrick Student Center, the Campus Store has a large selection of supplies such as pens, folders, notebooks, and bookbags available to fulfill student needs. We also continue to offer exclusive Husky Spirit Wear.
Also available in the Campus Store is the use of eCampus Online Bookstore kiosks and staff to assist students with any questions about textbooks, ordering, etc.
There are select items from the Campus Store inventory available online. Shop the Campus Store by clicking the link below.
Shop Online Supplies & Spirit wear
eCampus Online Bookstore 
At MCCC, students purchase textbooks via the eCampus Online Bookstore. Start shopping eCampus by clicking the link below! Benefits of eCampus include reduced costs for required course materials, a streamlined ordering process, guaranteed buyback amounts listed on select materials and year-round buyback options, 2-3 day free shipping, a Price Match Guarantee amd a Rewards Program – earn credit on your eCampus account by shopping online with select vendors.
eCampus orders can be shipped to the Campus Store or directly to a student's residence. A notification will be sent to a student's email account when their order has arrived and is ready to pick up. Deliveries sent to the Campus Store can be picked up by students during the Campus Store open hours listed below. A form of personal identification is necessary for pick up.
Please be advised that any orders not picked up by the last day of the current semester will be returned to eCampus with NO REFUND back to the student.  Orders that include a rented book need to be returned via your Online Bookstore profile by the due date or you will be charged for the cost of the book.  Please see the Campus Store staff for any questions.
Various payment methods are accepted on the eCampus Online Bookstore website, such as credit and debit cards, Paypal, financial aid, book buyback credits, credits earned through the Rewards Program and gift cards (available to purchase in-person in the Campus Store).
Important Info About Purchasing Textbooks/eBooks and Materials
Below is important information all students purchasing textbooks and course materials should read regarding publisher access codes, return policies, book buyback and more.
1.  What are access codes?
An access code is a multi-character code that functions as a key to gain access to an e-textbook or other digital learning materials. An access code may be supplied within a textbook bundle, a printed copy or in an email. An access code is typically used in Brightspace or on a specified website operated by either the e-textbook's publisher or a third-party platform (e.g., Labster, etc.).
2.  Are access codes required for my class?
In most cases, yes. If an access code is marked Required in the eCampus Online Bookstore, at least part of your grade will be related to and/or come from the online content. If an access code is marked Optional in the eCampus Online Bookstore, it generally means the material is supplementary to the lesson plan and will enhance your overall understanding of the course material.
3. How do I purchase publisher access codes?
You can purchase access codes through the eCampus Online Bookstore  https://monroeccc.ecampus.com/.  To log in to the Online Bookstore, you will need your student email address and password for your student email account.  For email account assistance, please contact the Testing Center Help Desk at (734)-384-4255, Information Systems Help Desk at (734)-384-4234 or follow this link https://www.monroeccc.edu/email. For further assistance navigating the eCampus Online Bookstore, please see the eCampus Instructions Document for step-by-step guidelines or contact the Campus Store at 734.384.4140. Once your purchase is complete, all digital material is available in the Digital Bookshelf in your eCampus Online Bookstore profile. Digital course materials are typically available within two hours of purchase.
4. What should I do once I have purchased my access code?
The best place to start is in your MCCC Brightspace course. Instructors typically post instructions for accessing their specific publisher materials within the course syllabus or in the Brightspace course "Content" area. For return purposes, it is strongly recommended that any digital content not be accessed until after you are sure that you will be continuing in the course. For a complete eCampus Online Bookstore return policy, please see https://www.monroeccc.edu/bookstore.
5.  Are there tutorials about using access codes?*
Below are several video tutorials for the most popular publishers:
*Always check first with your instructor or the course syllabus for specific instructions related to publisher content and registration. Also, check the Course Information Form for blended and online courses for any information related to your textbook and access code: 
6. Are you using Cengage Unlimited for any of your courses?
A single Cengage Unlimited access code can be used for multiple classes.  If you are taking several classes and see Cengage Unlimited as one of the options for a required text, you only need to purchase one code and it will provide access to all the materials for those courses.  In addition, a rental copy of any course materials is available at a cost of $7.99 through your Cengage profile.  Click on the "Purchase Options" tab.  You will have to provide your shipping address and the publisher will ship it directly to you.
Cengage Support and Virtual Office Hours information
7. Did you purchase a Pearson "combo" access code for a class?
For courses that offer a "combo" access card, this includes a free copy of the book that can be requested through your publisher profile.  Click on the "Purchase Options" tab and then select "Redeem a Prepaid Print Book".  You will have to provide your shipping address and the publisher will ship it directly to you.
8.  What do I do if I have a problem with my access code?
All publishers have student tech support for their learning products. Below are links to the major publisher's student support pages, as well as tips for working with publisher customer support:
Tips for contacting publisher customer support:  
Contact publishers at non-peak hours if possible (i.e., morning 8-11 a.m. or 2-4 p.m.). If possible, avoid calling at noon and 5 p.m. 
Be sure to get an incident ticket number from the publisher tech support representative. Write down your incident ticket number and have it available for follow up calls, if necessary, or to share with your instructor, MCCC e-Learning department, etc.  
When calling, chatting, etc. with a publisher tech support representative, be kind, but also be firm -- don't leave the call, chat, etc. without them understanding your issue and providing some timeframe for follow-up or resolution.  
Don't be afraid to ask to speak to a manager if you feel the publisher support person isn't helping you.  
Don't accept it if the publisher support person tells you the problem is with the college's LMS (i.e., Brightspace). Again, don't be afraid to ask to speak to a manager if you feel the support person isn't helping you.
9. What are some of the typical issues with access codes?  
A student created their publisher account using a personal email (Tip: always use your MCCC college email account to create your publisher accounts).  
A student enters incorrect email address 
A student has an old publisher account using another college's email
10. Where can I go at MCCC for assistance with my access code?
If you're having an issue with your publisher access code, first check with your instructor. Next, you can visit the Student Success Center in Founders Hall for one-on-one assistance. Additionally, you can contact the e-Learning Help Desk at 734.384.4328 for additional assistance.
Return Policy for Items Purchased in the Campus Store
Cash register receipt IS REQUIRED for all returns.
FULL REFUND is given for any unopened items in like new condition in original packaging with tags attached within two (2) weeks of the purchase date.  Quick study reference guides are
Refunds are issued in the same form as payment was made.  Purchases by check require a 10 business day waiting period to receive a cash refund.  Purchases by credit card require the credit card to process returns.
Returns of course materials sold or rented through the Monroe County Community College Online Bookstore will be accepted by eCampus.com up to 30 days after the book ships or after the course start date, whichever is later. For a late start semester course, books can be returned and up to 15 days after the course start date. All returns must have a Return Merchandise Authorization number to ensure the returns process is completed successfully.  A Return Merchandise Authorization number is generated when students complete a return via My Account in their eCampus profile..  Return reasons may include cancelled class, change of mind, order fulfillment error, etc. Returns may be sent back by the student or through the campus store with no restocking fee but are subject to the return shipping charge.
Digital course materials are only eligible for return so long as the content has not been accessed, redeemed/opened. If open/accessed, digital textbooks may still qualify for a return if certain conditions are met; digital textbook was purchased within the last 2 weeks, 20% of the digital textbook has not been viewed or printed, digital textbook must be in online mode (cannot be in offline mode). Redeemed/opened courseware codes are also evaluated on a case-by-case basis, and the return approval will be up to the publisher. Digital content includes Online Courseware, Digital Access Cards, Printed Access Cards, and Digital Textbook.  Contact the eCampus Customer Service department to ask if a refund is possible.
To return rentals, you may visit the Campus Store to process the return or go to Monroe County Community College Online Bookstore (ecampus.com) and select Return Rentals. Sign in to your My Account eCampus profile and select Return My Rental for Free and follow the prompts from there for the packing slip and return label.
To avoid any replacement charges, please ensure your rental package is in transit with UPS before the rental period ends.
Per the Rental Terms and Conditions, your credit/debit card on file will be charged the fair market value for a copy of the rental item(s) that were not returned by the due date. This allows eCampus to replace the item(s) in their inventory.
If your item is checked into the eCampus warehouse inventory within 1-14 days of the due date, they will refund 75 percent of the full charge of the book. If your item is checked into their warehouse inventory within 15-30 days of the due date, eCampus will refund 50 percent of the full charge.
After 30 days past the due date and the items have not been checked in, they are no longer eligible for a refund. If you no longer need this book and it's 30 days after the due date, we recommend that you visit the eCampus website, www.ecampus.com, and select Sell Your Books to possibly sell your item(s). You may also consider listing them at www.ecampus.com/mp.
You may also keep the book(s) because you do own them after the charge has been processed. Contact the eCampus Customer Service Department with additional questions about rental return charges or concerns.
Can I use financial aid/sponsorship awards for textbooks and laptops on the Online Bookstore?
When checking out, you will have access to the aid that has been awarded to you.  Select that option for your payment method and utilize those funds for your purchases.  Any remaining funds can also be used in the Campus Store for supplies, excluding Spiritwear.  For any questions or issues regarding financial aid funds shown in your Online Bookstore, please contact the Campus Store for assistance at (734) 384-4140.
Where can I purchase supplies that I might need?
Supplies are available in the Campus Store during our open hours or on the website link below.
https://bookstore.monroeccc.edu/
What number do I call if I have questions?
Call eCampus customer service at (859) 209-6958 between 8:30 a.m. and 6 p.m. Monday – Friday or the MCCC Campus Store at (734) 384-4140 between 8:00 a.m. and 4:30 p.m. Monday – Friday.
Sell your books online anytime! ECampus provides a prepaid UPS shipping label to ship books and offers four flexible payment options: PayPal, Check, Direct Deposit, and In-Store Credit. https://monroeccc.ecampus.com/