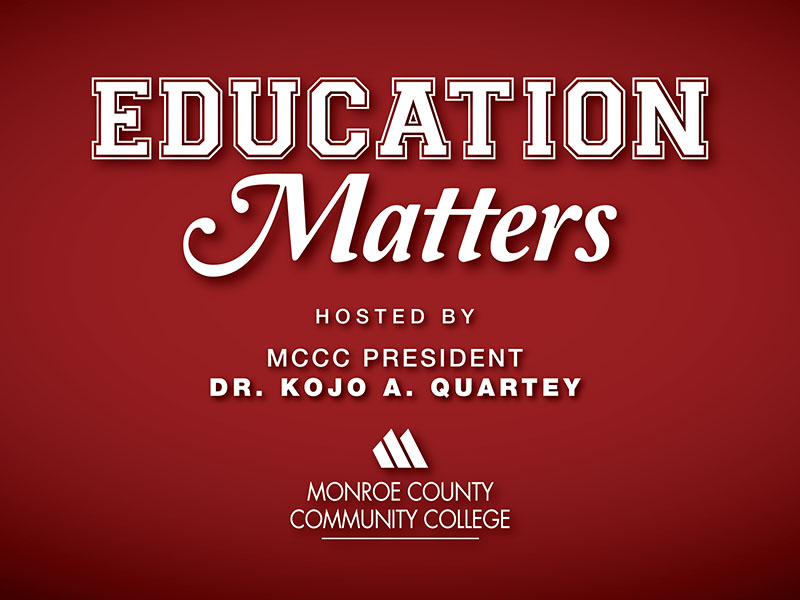 Monroe County Community College has a half-hour, monthly television show called "Education Matters," that runs on Monroe Public Access Cable Television is available via streaming video on demand at http://mpact.pegcentral.com and on MCCC's You Tube Channel, https://www.youtube.com/user/MonroeCCC. 
"Education Matters," is hosted by MCCC President Dr. Kojo A. Quartey. The show highlights a wide variety of topics, such as learning opportunities available at MCCC and national and local issues in education that affect the community.
It runs multiple times each week on MPACT, which can be viewed on Channels 21 and 916 on Comcast and Channel 197 on Charter Cable.  It is also available on Buckeye Broadband.
Education Matters Episodes
Education Matters May 2023 with guest Jack Burns, director of campus planning and facilities
Education Matters April 2023 with guest Robin West Smith, adjunct instructor of Sociology
Education Matters November 2022 with guests MCCC students Claire Bacarella and Kevin Payne
Education Matters October 2022 with guest James LeDuc, dean of humanities/social sciences
Education Matters September 2022 with guest Jay Hathaway, adjunct instructor who teaches MCCC's College Success Skills classes
Education Matters May 2022 with guest Ned Birkey, MSU Extension Educator Emeritus at Michigan State University
Education Matters April 2022 with guest Vuncia Council, director of the Monroe County Learning Bank Newwork
Education Matters March 2022 with guests Tracy Perry, director of enrollment management and Gerald McCarty, director of student success
Education Matters November 2021 with guest Wendy Wysocki, professor of business and economics
Education Matters October 2021, with guest Leon Letter, dean of business
Education Matters June 2021, with guests Dr. Valerie Culler, director of financial aid, and Ryan Rafko, director of admissions
Education Matters April 2021, with guest Kelly Heinzerling, director of auxiliary services and purchasing
Education Matters January 2021, with guest Paul Knollman, dean of the business division
Education Matters December 2020, with guest Dr. Scott Behrens, vice president enrollment management and student success