A Thousand Letters Home: One Wwii Soldier's Story Of War, Love And Live
Compiled, edited, and with an introduction and closing chapters by Teresa K. Irish
Follow on Facebook: A Thousand Letters Home / Twitter: @ThousandLetters
Visit website: www.AThousandLettersHome.com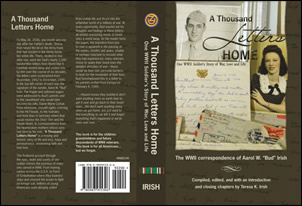 Following the 2006 death of her father, Aarol W. "Bud" Irish, Teresa Irish opened the Army trunk that had resided in the family home her entire life. There, nestled in row after row, were her dad's nearly 1,000 letters from WWII. Visited only by him over the course of six decades, the letters were postmarked from November, 1942 to December, 1945. The fragile and yellowed pages were written to Bud's parents back in Hemlock, MI, and to the sweetheart who would later become his wife. From lonesome, moonlit nights listening to the Hit Parade, to the foxholes and front lines in Germany where Bud would receive the Silver Star, the Purple Heart, and two Bronze Battle Stars, to correspondence with the heartbroken mothers whose sons died by his side, this is a moving and historic story of life and loss, hope and perseverance, unwavering faith, and true love. A Thousand Letters Home is comprised of 320 of these poignant letters and 104 corresponding photographs. 
The firsthand account through the eyes, heart and words of one soldier mirrors the journeys of many who served in WWII. From training camps across the U.S.A., to Ports of Embarkation where they boarded ships and crossed the ocean to fight on foreign soil, millions of young Americans were abruptly pulled from civilian life and thrust into the unfamiliar world of a military at war. At every opportunity, Bud poured his thoughts and feelings into his letters, all amidst reassuring words to loved ones a world away. Unable or perhaps reluctant to recount what they had experienced, many veterans chose to spare their loved ones the detailed atrocities of war – these would be their own personal burdens to bear for the remainder of their lives. Bud foreshadowed this in a letter to his parents written from Europe on February 4, 1945, "…Heaven knows they [soldiers] don't want anything more on earth than to get it over and go back to their loved ones…We don't want anything extra when we get home, but just want to find everything as we left it and forget everything that's happened or we've seen over here…"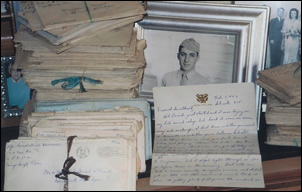 December 12, 1942
"I'm saving all of your letters…Do you suppose you could keep them for me when I get 20 or 25 if I wrap them carefully in a package and send them to you? I'd like to keep every one and you do the same then we'll pull them out and read them over every so often for the next 50 years, okay?" 
− written to Elaine from Camp Maxey, Texas 
September 23, 1943
"I used to get lonesome back in camp but it seems I miss you so much more now. Maybe it's 'cause we're out in the open where you look up any time when the sky's clear at nite and see stars shining or the moon getting low and it brings back all those memories…keep praying and always remember that I'll be faithful forever and that I'll be coming back to you when this war is over." 
– written to Elaine from Louisiana field maneuvers 
August 23, 1944
"If somebody hadn't started arming the U.S. and drafting soldiers when they did all I can say is that God would be the only one to save us today and that would probably be without our help. It's plain to see now that Germany and Japan were well set to keep rolling all the way if someone hadn't stopped them. Well, they're stopped now and will keep sinking from now on." 
– written to Bud's parents from Fort Dix, New Jersey, before leaving for Europe 
October 10, 1944
"…Suppose you think I've been forgetting about you since I haven't written for so long, but this isn't such a good place to write. We try to get a little sleep in the daytime by taking turns lying down…It's been pretty cool here and my hands get a little cold when I write too long. We've been in this foxhole for several days now, and Honey, don't think I haven't thought of you for hours at nite and during the day."
– written to Elaine from Europe
November 5, 1944
"…Well, here is a letter you've probably been looking for as it's my first written inside 'der Fuehrer's' country. May it not be his much longer. By the calm that lays over the villages and fields, with the exception of a little mortar and artillery fire, one would hardly realize that only a few hundred yards in front of us the enemy was facing us with waiting guns while our guns are trained towards him. But as soon as darkness falls again, every nerve tightens and things begin popping…" 
– written to Bud's parents from Germany 
November 26, 1944
"…As we knelt there in the room of a partially wrecked building our planes were roaring overhead to bomb deeper into Germany…One thing that helps a fellow feel good is to know that the folks at home are safe and their homes and cities aren't a mass of destruction such as is here in Germany. They're paying and paying dearly for their four years of tyranny… There's no doubt about it that it's at a high cost in men for each side." 
− written to Bud's parents from Germany 
December 27, 1944
"...Christmas Eve and Day were spent in a foxhole on the banks of the Roer River…off in the distance the Germans had a loud speaker playing Christmas carols and putting out propaganda…At 12 o'clock, a church bell was ringing deeper into Germany and our mortars were throwing a few shells across the river, then another church bell rang…Here we are, Germans and Americans, facing each other across a little river thinking of "peace on earth", and just watching in tense silence for an enemy to move so we could riddle him with bullets…" 
– written to Bud's parents from Germany 
April 12, 1945
"…their German S.S. troopers came down the road and there were so many we didn't have a chance…My buddy was between him and me and was lying so close that I could feel the bullets hit him…I dropped on my face and laid there to make them think I was dead and one of them jerked the rifle from my hands and hit us both over the head. …About a half hour later I heard them coming back and my heart was beating so hard it seemed like they should have heard it…" 
– written to Bud's parents from Germany
July 11, 1945
"The radio has been blaring all day about the great, successful raids against Japan, but there's never a word about the Americans who are dying trying to put it across. I remember when we were in foxholes waiting to cross the Roer and then Rhine Rivers. The papers and radio would say everything is peaceful with action limited to scattered nite patrols. They didn't stop to think that every day takes the lives of men and results in wounds for others. One nite the unit next to us sent 29 men over on a patrol and not one came back…" 
– written to Bud's dad from Germany 
December 10, 1945
"I hope this will be my last letter from the ETO though I've wished that so much lately that it doesn't seem like that last letter will ever be written. I wasn't going to write anymore but thought perhaps if I didn't you folks would be looking for me to walk in the door each day…I went to Mass Saturday, and Mass and Holy Communion Sunday, and asked that if it were God's will that I be home for midnight Mass on Christmas Eve. I thought my prayers were answered when at noon yesterday the orders came through that we were leaving Tuesday morning for Camp Philip Morris in Le Harve. We had duffle bags packed and piled outside waiting for trucks at 4:30 tonite when word came down that it was cancelled for 48 hours. Boy, talk about a bunch of heartbroken fellows. We were certainly them." – written to Bud's parents from Camp Boston Reims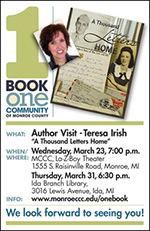 Meet the Author:  Teresa Irish
Wednesday, March 23 / 7:00 p.m. 
MEYER THEATER – LA-Z-BOY CENTER • MONROE COUNTY COMMUNITY COLLEGE
1555 S. Raisinville Road • Monroe
or 
Thursday, March 31 / 6:30 p.m. 
IDA BRANCH LIBRARY
30161 Lewis Avenue • Ida 
A Thousand Letters Home author Teresa Irish takes audiences on an historic, inspirational and life-affirming journey based on the 1,000 letters (and accompanying 250 photos) one WWII soldier wrote home during his 38 months of service. Irish's skillful and captivating storytelling blends humor and history to leave audiences laughing, crying, reminiscing and inspired. A heartfelt tribute to America's history, freedoms, and family values, as well as a call to citizenship in today's world, this presentation reaches across generations with a little something for everyone. With numerous enthusiastic reviews and 220+ prior venues, this is a truly a program that you won't want to miss! 
Irish will be available to sign her book following the event.  Softcover and/or hardcover books will be available for sale/signing. Cash, checks and credit cards can be accommodated.
Prepare to be awestruck if you host author Teresa Irish's A Thousand Letters Home presentation. A select group of our clients were privileged to be able to experience the journey that Ms. Irish so eloquently takes you on. Although the setting (WWII) took place before her time, she makes you feel like you are walking right along with her as she uncovers the treasures found in her father's war chest. I have never seen such a captivated audience – seat backs were definitely not needed that night! There were tears at times and laughter at others – all woven together by an exceptional storyteller. Her tribute to our country's history and veterans, and call to citizenship, completed the night. This is truly an event not to miss! 
T. Knickerbocker, BM/SVP, Investments, Managing Director, The Knickerbocker Group of Raymond James 
Teresa Irish's presentation was spellbinding and truly touched people across all age groups and generations. Truly Amazing! Teresa was the keynote speaker for our 350 plus audience in Emporia, Kansas, with ages ranging from young college students to 80 and beyond. This presentation engaged their interest, memories and emotions as few have ever done. Skillfully woven into the story is a call to citizenship in today's world. Reflective, inspirational and motivational, this presentation is for past and present generations and all will relate to and benefit from hearing it. A great keynote speaker and presentation. 
D. Stueve, Flint Hills Senior Life Fair Committee, Emporia, Kansas 
Teresa Irish's presentation on her book A Thousand Letters Home was a very special addition to the Annual Farm Women's Symposium. Her message is heartfelt and filled with moments of laughter as well as moments of tears. It is a message of family, faith and citizenship. It is a wonderful reminder of all the benefits we enjoy in this country because of the sacrifices the men and women who have served in the military have made for us. The women attending this symposium remarked that Teresa made this the best symposium they have attended. Written comments about her program included "awesome," "excellent," and "touching," followed by plus signs and stars! Many plan on attending future events where Teresa will be speaking again. 
J. Schwab, Farm Women's Symposium, Program Chairperson 
"I could listen to her all day!"…was a comment heard by many after Teresa's presentation to our employees. She's able to weave history and present day effortlessly through her storytelling. When you laugh, cry, and feel inspired all within the same presentation, you know it was worthwhile. Thank you, Teresa, for sharing your personal story, the letters, and encouraging us to ask questions to our loved ones that have served! 
P. Perkins, PHR. Sr. Talent Recruiter, Herman Miller 
A Thousand Letters Home is an inspirational, uplifting, spiritual work written against the backdrop of World War II. For the capacity crowd at the Village Conference Center in Chelsea, MI, Teresa Irish enchanted her audience by bringing these letters to life. Her presentation paid tribute to her father, not only for being a soldier, but also as a man yearning just to return home to the United States and live in peace with his sweetheart. Teresa's reminiscences down memory lane included songs from the era, which inspired the audience to sing along with her, and they did so with great joy in their hearts. In these letters, you see a soldier's brave front in perilous places, an experience shared by nearly every soldier in attendance, bringing tears to the eyes of many veterans and family members. A very touching story. Strongly recommended for any organization planning a memorable and engaging experience that will impact your community. 
B. Harmer, Director, Chelsea District Library, Chelsea, MI 
This was so enjoyed by our more than 100 attendees that we still continue to hear rousing compliments to this day. Teresa's presentation was equal parts moving, funny, touching, and informative at the same time. Historians, genealogists, students, senior citizens and veterans alike will find her a truly engaging speaker. Her presentation is not to be missed! 
H. Siasoco, Library Director, Pinckney Public Library
BRAVO! This was an amazing experience! Teresa made an outstanding presentation to our Prime Time audience. Her heart felt tribute to her father drew us into the world of the young warrior soldier of WWII. A Thousand Letters Home deserves a thousand cheers! 
K. Arndt, Director, East Lansing Prime Time Senior Program 
Teresa Irish had to be one our best speakers ever! What a story, plus emotion and such a wonderful storytelling skill. Thanks for such an amazing monthly meeting for the OLLI group at SVSU! 
J. Brownlie, Director, Osher Lifelong Learning Institute at Saginaw Valley State University 
After 12 years of librarianship, I can say this is the most inspirational program we have offered. Teresa's engaging manner in delivering the poignant journey of her parents was a touching tribute to the power of love, hope and optimism in the face of heartrending challenges. Teresa, I cannot thank you enough for the service you provide in opening your heart and family history in your writing and with your audiences. A national treasure! 
M. Brussow, Head Librarian, Capital Area District Libraries – S. Lansing Branch 
Teresa is WONDERFUL! She's a natural storyteller and so articulate, she relates really well to the audience, she's so genuine. Teresa doesn't just tell the story of her father's letters, she sets the background of the life of this amazing man. Lots of families probably have stacks of letters, but her father was an uncommonly good writer and an exemplary individual. Teresa has so many life lessons to share and will appeal to a wide range of your patrons, from at least high school age to the elderly. Our audience LOVED her! 
C. Leddy, Director, Stair District Library, Morenci, MI 

Wow! Teresa's presentation was engaging, charming, captivating and emotional. She captured the heart and soul of the Veterans and their families as they related to her story about times that many Am ericans have forgotten or simply were too young to know. Teresa melded a wholesome love story entangled in the bleak times of war, with the lessons learned of a man who used his wisdom to grow and prosper with his devoted wife, and to raise a large family where love of God, country, and family were number one. 
T. & J. Koenigsknecht, Carson City American Legion Post 380 
Our audience was mesmerized by Teresa's presentation. Her story telling skills filled the room with emotion as she brought her father's letters to life. The audience was singing, laughing, and sharing many memories. The presentation ended much too soon! 
S. Johnson, Senior and Adult Enrichment Coordinator, Northville Community Center, Senior Services 
Teresa Irish's presentation, from the first word, was gripping and entertaining. I'm tempted to say that if you have a large senior population or a rabid base of WWII enthusiasts, this would be the program to feature. But truly, her program is universally appealing and our audience was rapt every minute. 
K. Ester, Director, Shelby Township Library 
I received rave reviews about Teresa's presentation. Her display–not to mention her demeanor in personalizing the program so audience members could relate to her experience or that of her father–were second to none. Her good humor, pathos and generosity of empathy were outstanding. Audience members always wanted to know "What happened next….?" I heartily recommend for audiences of men and/or women; older children would enjoy it as well! 
M. Miller, Vice President of Programs, American Association of University Women, Grosse Pointe Chapter 
THANK YOU for your engaging and inspiring presentation. Our students, faculty members, and community friends left your program with a deeper appreciation for the people who serve our country. Teresa, you are a master story teller with a powerful message to convey. Thank you for providing a unique daughter/editor perspective and an outstanding educational experience. It was a pleasure to welcome you and your husband to our campus. 
Prof. E. Rybicka, Pageturners Book Club Coordinator, Schoolcraft College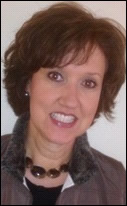 Five-and-a-half years after finding her father's WWII letters, Teresa Irish brought A Thousand Letters Home to print. As the book's author, publisher and distributor, this has truly been a labor of love. Teresa has been featured at over 220 venues and has appeared on ABC News, NPR, Veterans' Radio, Frontlines of Freedom, Military Author Radio, and the nationally syndicated National Defense Radio Show and History Author Show.
Born in Saginaw, MI, Teresa is a 1984 graduate of Michigan State University. She has worked in higher education, the staffing industry, and most recently as a vice-president for a national home healthcare and hospice company. She retired in April 2012 to devote her time to sharing this moving and historic story, and the accompanying message of citizenship in today's world. 
Teresa lives Northville, MI and is married to COL Brad Foster, United States Army Reserve.