PAULETTE JILES (1943 - )
Paulette Jiles, poet, novelist, playwright, journalist (b at Salem, Mo – in the Missouri Ozarks. 1943) was raised in small towns in both south and central Missouri, Jiles attended three different high schools, and graduated (1968) from the University of Missouri (Kansas City) in Romance Languages.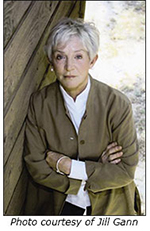 After graduation she worked as a free-lance writer (1968-1969) for the Canadian Broadcasting Corporation (CBC) in Toronto and in the far north of Ontario and in the Quebec Arctic, helping to set up native language, one-watt FM radio stations with, Anishinaabe and Inuktitut indigenous people. In the process, she learned the Ojibwe language spoken by the Anishinaabeg tribes in Ontario and elsewhere.She lived in a log cabin and learned how to survive during the long cold northern winters. Later, she became a reporter at an Indian language newspaper, writing about forest fires, crimes of passion, and serious bush plane accidents. Throughout, her love and respect for the Indian peoples shine through her writing as she brings legends and traditions to the printed page. She spent eight years as a journalist in Canada, before turning to writing poetry.
Jiles taught at David Thompson University in Nelson B.C. (1983-1984) and grew to love the British Columbian ecosystems. She spent one year as a writer-in-residence at Philips Andover in Massachusetts (1987-1988).  Jiles returned to the United States permanently when she married Jim Johnson, a Texan in 1995.  She moved with him temporarily to San Antonio in 1991.After several years of travel, including living in Mexico, the couple finally settled down in San Antonio in 1995, buying a run-down limestone house in the historic district, and spending the next few years renovating it. After the couple divorced in 2003, Johnson lived on there until his death in 2016.
A dual citizen of the United States and Canada, Jiles now lives on a 32 acre ranchito near Utopia (a very small town in the Texas Hill Country - 80 miles west of San Antonio) with two horses, a donkey, a cat and a dog. She sings alto in a church choir, rides remote trails in Texas with friends, and plays the Irish tin whistle in a small bluegrass gospel band called Picking on the Porch.
Want to Know More About the Author?   
Canada First.  1970. Poetry anthology edited by P. Anson
Mindscapes: Poems by Zieroth, Jiles, Musgrave, Wayman.  1971.  Poetry anthology edited by Ann Wall
Waterloo Express.  1973.  Poetry
Rose's House.  1977.  Screenplay based on a story by Clay Borris. National Film Board of Canada
Celestial Navigation.  1984.  Poetry.  Winner of the 1984 Governor General's Award for English Poetry - Canada, the 1985 Pat Lowther Memorial Award - Canada, and the 1985 Gerald Lampert Award- Canada
The Golden Hawks.  1985.  Juvenile Novel in the Where We Live series
Sitting in the Club Car Drinking Rum and Karma Kola: A Manual of Etiquette for Ladies Crossing Canada by Train.  1986.  Novella.  Nominated for the 1987 Ethel Wilson Fiction Prize - Canada
The Late Great Human Road Show.  1986.  Novel.  Nominated for the 1986 Books in Canada First Novel Award
The Quarterly: The Magazine of New American Writing.  Summer 1987. Volume 2.  Contributor
My Mother's Quilt.  1987.  Radio Script (Performance Poetry)
Money and Blankets.  1988.  Radio Script (Performance Poetry)
The Malahat Review.  Summer 1988.  Issue 83.  Featured Contributor 
The Jesse James Poems.  1988.  Poetry
Blackwater.  1988.  Short Stories and Novella
Song to the Rising Sun: A Collection..  1989.  Poetry
Sudden Miracles: Eight Women Poets.  1991.  Poetry anthology edited by Rhea Tregebov
Cousins.  1992.  Memoir
Flying Lesson: Selected Poems.  1995.  Poetry
North Spirit: Travels Among the Cree and Ojibway Nations and Their Star Maps.  1995.  Memoir
Enemy Women: A Novel.  2002.  Novel.  Winner of the 2002 Rogers Writers' Trust Fiction Prize – Canada and the 2003 WILLA Literary Award for Historical Fiction – U.S.
Stormy Weather: A Novel.  2007.  Novel
The Color of Lightning: A Novel.  2009.  Novel
Lighthouse Island: A Novel.  2013.  Novel
News of the World: A Novel.  2016.  Novel.  Finalist for the 2016 National Book Award – U.S.
ONLINE PODCASTS
"An Unlikely Pair Forge a Bond Traveling Through Texas in 1870."  The Leonard Lopate Show.  November 16, 2016 
"Jiles Takes Another Trip Into Past With New Book".  Jane Henderson.  St. Louis Post-Dispatch.  October 7, 2016
ONLINE VIDEO INTERVIEWS AND READINGS
Library Love Fest. A message to librarians from Paulette Jiles. (22 minutes). July 22, 2016 
Thousand Oaks Library: Paulette Jiles visits the Kavli Theatre at the Thousand Oaks Civic Arts Plaza for an afternoon of discussion for Thousand Oaks Reads: One City One Book. Topic of discussion revolves around Paulette and her book, News of the World. (35:45 minutes). October 29, 2017 
Texas Center for the Book at the Texas State Library and Archives Commission (TSLAC): Paulette Jiles explains The Library of Congress National Book Festival and the selection of her book News of the World as Texas' Great Read selection and summarizes her book and the value of reading.  (2:11 minutes). July 11, 2017  
San Antonio Book Festival: Paulette Jiles is interviewed at the San Antonio Book Festival regarding her experience writing poetry vs writing prose.  (1:06 minutes). December 13, 2016 
James G. Gee Library @ Texas A&M University-Commerce:  Paulette Jiles speaking at Texas A&M University-Commerce for National Library Week.  (36.45 minutes). April 15, 2010    
WRITTEN INTERVIEWS 
Barnes and Noble: "Ending with Defiance: Paulette Jiles on 'News of the World.'" A Conversation with Lizzie Skurnick, December 9, 2017.  Viewed February 21, 2019 
Washington Independent Review of Books.  An interview with Paulette Jiles by Holly Smith.  June 20, 2017.  Viewed February 21, 2019
Lone Star Literary Life.  Lonestar Listens: National Book Award finalist Paulette Jiles shares news of her world. An interview by Kay Ellington, LSLL Publshere. November 6, 2016.  Viewed February 21, 2019
Texas Monthly.  "The Culture: True Western" by Jeff Salaman. October 2016. Viewed February 21, 2019