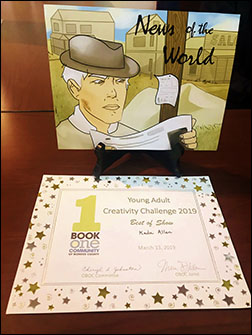 The One Book, One Community of Monroe County invites Monroe County high school students to participate in our inaugural Read and Respond Art Competition.  Our 2019 book selection, News of the World by Paulette Jiles, not only offers historical insights, suspense, and a bit of humor, but has relevance in our own news hungry world. 
The story, the characters, and the Southwest setting are inspiration for artistic creativity: 
Set in 1870, Captain Jefferson Kidd, a veteran of three wars, is now an itinerant news reader traveling through northern Texas.  He takes responsibility for a young white girl whom was captured by the Kiowa Indians This unlikely pair learn more about themselves and each other as they face the challenges and dangers of the rugged Old West.
All participants are encouraged to read the novel. Copies of the book are available at all Monroe County Library Branches as well as local book stores. 
Entries will be judged on March 13th, 2019 using the following criteria:
Connection to the book
Use of Media and Design
Craftsmanship
Projects will be displayed that evening in the Atrium of the Monroe County Community College La-Z-Boy Center during the annual kickoff event.   A monetary prize of fifty dollars will be awarded to Best of Show. 
Congratulations to Kada Allen, a Senior at Monroe High School, who is the recipient of the Young Adult Creativity Challenge 2019 Best of Show Award.