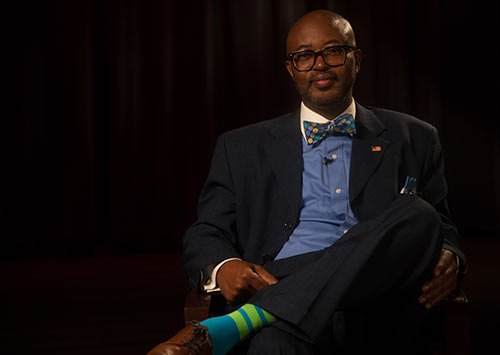 Dr. Kojo Quartey became the fifth president in the history of Monroe County Community College in 2013. 
Quartey has made an indelible mark on the college and community through his unwavering commitment to promoting the power of education – specifically community college education.
He has immersed himself in the culture of MCCC and the community through his consistent interaction with faculty, staff, students, local schools, civic clubs, non-profit organizations, small businesses, corporations and more.  Quartey truly puts the "community" in Monroe County Community College.
In addition to leading the campus through extensive college-wide planning initiatives, such as the current strategic plan and the college's first-ever enrollment management plan, Quartey has forged numerous initiatives and partnerships to positively affect the college and the county. 
For example, he led an information campaign that resulted in the voters of our county approving a 5-year, .85-mill property tax levy for the college in November 2016 for maintenance and improvement needs.  In addition, under Quartey's leadership, MCCC responded to a major need expressed by those in the community's farming industry by partnering with Michigan State University's Institute of Agricultural Technology to begin an agriculture program; partnered with Spring Arbor University to improve access to higher education in the southern part of Monroe County, and made the transition over a number of years from an outdated, conventional heating, ventilation and air conditioning system to a much more energy-efficient and earth-friendly geothermal-based system with a 50-year lifespan on its well field.
Before coming to MCCC, Quartey was provost of the City Colleges of Chicago.  He has also served as dean of the College of Business at Davenport University, dean of the Division of Administration and Business at Talladega College, dean of the College of Business and Professional Studies at Lincoln University-Missouri, and vice president for institutional advancement and executive director of the Lincoln University Foundation. 
Quartey holds a doctoral degree in applied economics from Mississippi State University, as well as a bachelor's degree in accounting and master's degree in economics from Morgan State University.  He has completed post-doctoral work in finance and leadership.
He has published a book and book chapters and has written numerous publications on international and economic development.  In addition, he has served as a consultant on international projects in the Ukraine, Ghana, China and other nations.