Curriculum/Degree Requirements: Agribusiness
The agribusiness pathway at Monroe County Community College provides students with a solid background in plant and soil science, precision agriculture, agriculture management, entomology, plant pathology and additional fundamentals of core business courses.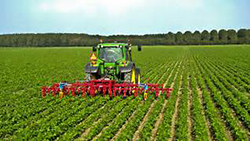 Michigan State University and MCCC have partnered together to offer students an opportunity to earn a certificate in agricultural operations and an associate of applied science in agri-business. The certificate, awarded by MSU, will include 34 credits of agriculture-oriented courses through the Institute of Agricultural Technology. The associate of applied science awarded by MCCC will include 34 credits offered by the MSU/Institute of Agricultural Technology plus 19-20 general education credits and a minimum of 9 elective credits from MCCC to equal 62-63 total credits.
Curriculum/Degree Requirements: Ag Operations
The agricultural operations pathway provides students with a solid background in plant and soil science, precision agriculture, agriculture management, entomology, plant pathology and additional fundamentals of agriculture. Michigan State University and MCCC have partnered together to offer students an opportunity to earn a certificate in agricultural operations and an associate of applied science in agriculture. The certificate, awarded by MSU, will include 34 credits of agriculture-oriented courses through the Institute of Agricultural Technology. The associate of applied science awarded by MCCC will include 34 credits offered by the MSU/Institute of Agricultural Technology plus 19-20 general education credits and a minimum of 6-7 elective credits from MCCC to equal 60 total credits
Agriculture Contact Information
Leon Letter
Building / Office Icon
Founders Hall, F-193
Keith Freier
MSU Ag Program Coordinator
Phone Icon
(734) 384-4155
Building / Office Icon
F-193c