WHY YOU SHOULD CONSIDER A REGISTERED APPRENTICESHIP PROGRAM
Recruiting, Training and Retaining, the three buzz words of Registered Apprenticeship programs and why you should know them.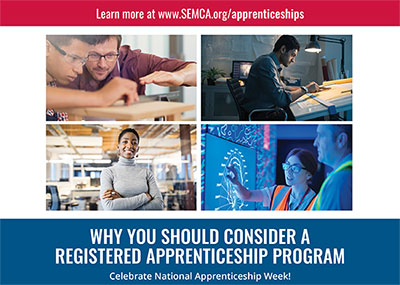 JOIN US TO LEARN MORE
Monroe County Community College
La-Z-Boy Center
November 18, 2021 | 9 – 10:30 a.m.
Celebrate National Apprenticeship Week!
REGISTER ⟩⟩⟩ www.SEMCA.org/naw2021
**************************************************************************************************
Registered Apprenticeships are innovative work-based learning and post-secondary earn-and- learn models that meet national standards for registration with the U.S. Department of Labor (or federally recognized State Apprenticeship Agencies) Office of Apprenticeship. 
At Monroe County Community College, in cooperation with companies/industries, one can enroll in his/her Related Training Instruction (RTI) classes towards their apprenticeship program as well apply credit course work towards a certificate or degree from MCCC, upon completion.
Monroe County Community College's Applied Science and Engineering Technology Division Office will be able to assist in establishing sequence of trade-related courses for the employer to customize training in a number of skilled trades programs. 
The length of a Registered Apprenticeship depends on the complexity of the occupation and the type of program (Time-based, Competency-based, or Hybrid). Apprenticeship programs range from 1-6 years, but the majority of programs are four years in length. During the program, the apprentice receives both structured, on-the-job training (OJT) and job-related education. For each year of the apprenticeship, the apprentice will receive normally 2,000 hours of on-the-job training and a recommended minimum of 144 hours of related classroom instruction.
After completion of a Registered Apprenticeship, the apprentice earns a "nationally recognized credential" from the Department of Labor that is portable and stackable.
Benefits of a Registered Apprenticeship Program include:
Paid employment during training with progressive wage increases
Opportunity to learn skills needed by employers throughout the industry
A more secure career and the ability to adapt to new job requirements
National industry certification upon graduation from a career training program and can take that certification anywhere in the United States
Credit towards an AAS degree for completion of apprenticeship program
Company-sponsored training can be available in the following areas:
Machinist/Machine Repair
Millwright
Welder
Tool and Die
Electrician
Apprenticeship Programs Contact Information
Parmeshwar 'Peter' Coomar
Dean of Applied Science and Engineering Technology Division
Building / Office Icon
T-147
Kristina Henry
Experiential Learning Coordinator
Phone Icon
(734) 384-4270