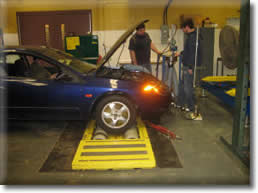 The associate of applied science degree with specialization in automotive engineering technology is structured to provide the technical knowledge and mechanical abilities necessary to work in today's growing automotive research and development industry. Automotive engineering technicians assist engineers in design and development work. They help determine the practicality of a proposed product design change and plan and carry out tests on experimental test devices and equipment for performance, durability and efficiency. As part of the testing procedure, they record data, make computations, plot graphs, analyze results, write reports and often make recommendations for improvements to meet performance requirements. The automotive engineering technician makes use of various mechanical and electrical test instruments and gauges, including engine and chassis dynamometers, road simulators, flow benches and computer-controlled data gathering devices. The curriculum is planned to prepare the graduate to perform duties concerned with design, testing and development activities in direct support of the automotive engineer
Career Opportunities
Graduates of this program will be prepared for entry-level employment in the following areas:
Automotive engineering technician
Dynamometer Technician
Engineering technician
Factory technical representative
Research and development technician
Research technician
Sales engineer
Test Engineer, Automotive
Certificate Program: Automotive Engineering Technology
In addition to the two-year associate degree program, Monroe County Community College offers a certificate program in automotive engineering technology. We recognize that many employers place value on a certificate which authenticates specialized educational preparation. The program concentrates upon basic core courses with skill development and job upgrading being the primary objectives. All courses taken in the certificate program are applicable toward the associate of applied science degree
AUTOMOTIVE ENGINEERING TECHNOLOGY MISSION STATEMENT
The Automotive Engineering Technology program provides students with opportunity to seek employment in research and testing areas of an automotive industry as an engineering technician upon completion of coursework leading to a certificate or an associate's degree.
Program Outcomes
Upon graduation, the graduates of the Automotive Engineering Technology program will be able to:
Recognize and demonstrate skills to perform effectively as an automotive engineering technician
Describe and apply concepts associated with design and repair of major automotive systems
Identify and describe components of conventional, hybrid, electric and autonomous vehicle drive systems in automobiles
Demonstrate troubleshooting skills by identifying root-cause and defining procedures to solve a problem
Setup and perform testing  using a wide variety of automotive instrumentation and test systems
Recognize if test data is valid, analyze data using defined protocols and generate test reports
Recognize, explain and practice safe work practices to design, repair and test automobiles
Automotive Engineering Technology Contact Information
Parmeshwar "Peter" Coomar
Dean of Applied Science and Engineering Technology Division
Phone Icon
(734) 384-4209
Building / Office Icon
T-147