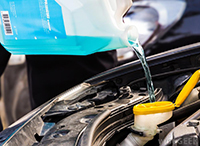 Curriculum/Degree Requirements
The associate of applied science degree with specialization in automotive service technology is structured to provide the technical knowledge and mechanical abilities necessary to work on the vehicles of yesterday, today and the future. Today's vehicles are highly complex feats of engineering. Technicians need a wide array of skills and knowledge to diagnose, repair and maintain these vehicles. Automotive service technicians have the opportunity to work on hydraulic systems (brakes and transmissions), mechanical systems (engines and steering), computer systems (modules and networks) and electrical systems (entertainment and lighting). All of these systems work together to ensure the safety and comfort drivers rely on. The automotive service technician makes use of various mechanical and electrical test instruments and gauges, including scan tools, oscilloscopes, pressure gauges, pneumatic tools and hand tools. The curriculum is planned to prepare the graduate to perform duties concerned with diagnosis, repair and maintenance of motor vehicles.
Certificate Program: Automotive Service Technology
In addition to the two-year associate degree program, Monroe County Community College offers a certificate program in automotive service technology. The basic core subjects of automotive repair are covered in these courses. Skill development and job procurement are the primary objectives of this program, and all courses taken in this certificate program are applicable toward the associate of applied science degree.
AUTOMOTIVE SERVICE TECHNOLOGY MISSION STATEMENT
The Automotive Service Technology program provides students with opportunity to work as service technicians in automotive repair facilities upon completion of coursework leading to a certificate or an associate's degree.
Program Outcomes
Upon graduation, the graduates of the Automotive Service Technology Program will be able to:
Demonstrate the correct method of utilizing automotive service tools and equipment.
Identify all related system diagnostic/repair information within automotive service information.
Employ safe and professional work habits while conducting typical automotive service procedures.
Explain how various systems of an automobile work.
Demonstrate correct service procedures in the various automotive systems.
Test and diagnose the proper operation of the various automotive systems
Automotive Service Technology Contact Information
Parmeshwar "Peter" Coomar
Dean of Applied Science and Engineering Technology Division
Phone Icon
(734) 384-4116
Building / Office Icon
T-147