The Early Childhood Education associate of applied science degree program prepares students to provide high-quality care and education of young children birth through age 8. The mission of the Early Childhood Education program at Monroe County Community College is to prepare students for employment in the early childhood education field and for articulation to advanced degree programs in early childhood education. This is accomplished through the provision of classroom learning and practical application in field experiences. These experiences will be provided in multiple settings across varied age ranges and diversity of children and families. 
The program prepares individuals for staff placement in: 
Child care centers 
Family child care 
Head Start programs 
Great Start Readiness Program preschools 
Preschools 
Public school latchkey programs 
Other programs involved in the care and guidance of children and their families
Certificate Program: Early Childhood Education
The Early Childhood Education certificate program is designed for students who will work with and teach young children. Students may use this curriculum to meet state licensing requirements to provide child care in homes, centers and other facilities or for positions as assistant teachers in child care programs. A minimum of 32 credit hours is required for the Early Childhood Education certificate. Courses for the certificate can be applied toward the associate degree.
Accreditation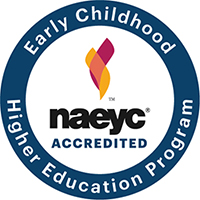 The Associate Degree in Early Childhood Education at Monroe County Community College is accredited by the Commission on the Accreditation of Early Childhood Higher Education Programs of the National Association for the Education of Young Children, 1313 L Street, NW, #500, Washington, DC 20005. (202) 232-8777. The accreditation term runs from Spring 2018 through Spring 2025.
CDA Credential
The Child Development Associate (CDA) is a national credential earned by individuals working with young children birth to five years in child care settings. The CDA credential is based on a core set of competency standards, which guide early care professionals as they work to becoming qualified teachers of young children. The candidate must document 120 clock- hours of formal training through course work, 480 clock-hours of current experience working with young children, and complete documentation as required by the Council for Professional Recognition. MCCC courses provide the training required for the CDA and may be applied toward the associate degree or certificate programs. Please note that MCCC does not award the CDA credential. See the Council for Professional Recognition website for more information (www.cdacouncil.org)
Early Childhood Education Program Outcome Data
As part of the MCCC Early Childhood Education program's achieving and maintaining of NAEYC accreditation, the following outcome measures are updated and reported annually:
Number of Program Completers for the Three Most Recent Academic Years
| Academic Year | Number of program completers | % of program completers who were attending full-time (at the time of completion) | % of program completers who were attending part-time (at the time of completion) |
| --- | --- | --- | --- |
| 2017-2018 | 18(19)* | 28% (32%)* | 72% (68%)* |
| 2018-2019 | 9 (10)* | 22% (30%)* | 78% (*70%)* |
| 2019-2020 | 5(6)* | 0% (0%)* | 100% (100%)* |
*The numbers noted in parentheses include ECE certificate-only candidates.
| Academic year in which a Fall cohort of full-time candidates enrolled in the program (select three sequential years) | Percentage of those candidates who completed the program within 150% of the published timeframe | Percentage of those candidates who completed the program within 100%, 200% (twice) or 300% (three times) of the published timeframe (Please circle, underline or bold the indicator above on which the program will report.) |
| --- | --- | --- |
| Fall 2014 | 33% | 33% |
| Fall 2015 | 50% | 50% |
| Fall 2016 | 17% | 17% |
Average GPA of Program Completers for the Three Most Recent Academic Years 
| Academic Year |  Outcome Measure | Performance Data |
| --- | --- | --- |
| 2017-2018 | Average GPA of the graduating class (4.0 scale) | 3.38 |
| 2018-2019 | Average GPA of the graduating class (4.0 scale) | 3.48 |
| 2019-2020 | Average GPA of the graduating class (4.0 scale) | 3.55 |
Early Childhood Education Contact Information
Felice Moorman
Assistant Professor of Early Childhood Education
Phone Icon
(734) 384-4219
Building / Office Icon
L-118
Stephanie Wozniak
Assistant Professor of Early Childhood Education
Phone Icon
(734) 384-4197
Building / Office Icon
L-118