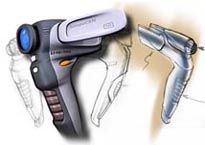 Curriculum/Degree Requirements
The associate of applied science degree with specialization in mechanical design technology is designed to prepare students for careers that follow the design process of a manufactured product from inspiration to final production. Automobiles, robotics, aerospace products, machinery, computer and electronic products - the list of products designed by people in this field could go on forever. Mechanical design students receive training in the latest solid-modeling computer aided design (CAD) software. The CAD programs utilized in the design program are DraftSight, AutoCAD, SOLIDWORKS and CATIA. Possessing skills and knowledge in multiple CAD programs makes our design graduates more marketable - it is all about having an edge. Mechanical design is a dynamic field that attracts talented, creative people. The need for advanced technology products in the medical, transportation and energy fields, as well as the growing global competition among businesses, is expected to keep designers busy for many years to come.
In addition to the two-year associate degree program, Monroe County Community College offers a certificate program in mechanical design technology. We recognize that many employers place value on a certificate which authenticates specialized educational preparation. The program concentrates upon basic core courses with skill development and job upgrading being the primary objectives. All courses taken in the certificate program are applicable toward the associate of applied science degree. 
MECHANICAL DESIGN PROGRAM MISSION STATEMENT
The mission of the Mechanical Design Technology program is to provide students with relevant industrial experience within the academic environment through classroom lecture, online research and resources, laboratory projects, and demonstration leading to internationally recognized credentials, gainful employment, upon completion of an Associate's Degree, short term certificate  and/or pursuit of a four-year college degree.
PROGRAM OUTCOMES
• Effectively communicate technical ideas and problem solving decisions with others.
• Demonstrate knowledge, techniques, skills, and use of the appropriate tool in mechanical design applications.
• Apply math, science, and engineering technology principles to solve problems in mechanical design.
• Use creativity in the design of mechanical components and systems.
• Recognize problems in mechanical design applications and develop appropriate solutions.
• Work productively as an individual and as a team member of a problem solving team in an engineering environment.
• Recognize the need to stay current in the mechanical design career field.
• Demonstrate professional and ethical behavior.
As approved by the Mechanical Design Technology Advisory Committee.
Mechanical Design Technology Contact Information
Dean Kerste
Professor of Mechanical Design Technology
Phone Icon
(734) 384-4121
Building / Office Icon
T-141