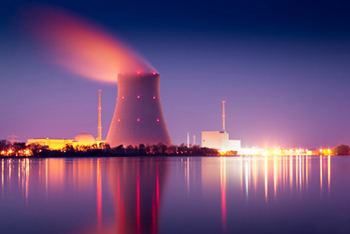 The associate of applied science degree with specialization in nuclear engineering technology will enable prospective students to seek employment as nuclear engineering technicians in various sectors of the nuclear power industry. This specialization utilizes a learning approach that emphasizes both theory and hands-on skills necessary to function effectively in the technical environment of the nuclear industry. The program stresses effective oral and written communication as well as related mathematics, science and technical skills. 
In addition to completion of this program, graduates will eventually need to pass appropriate background checks to be employable in the nuclear industry. Please check with the Admissions Office for details. 
It is strongly recommended that students follow the prescribed course sequence, as some courses are only offered once in an academic year.
Check out the MCCC NUET Program 10 year Anniversary Video on YouTube
Career Opportunities:
The program is based on the Nuclear Uniform Curriculum Program (NUCP), a uniform standard administered by the Nuclear Energy Institute. Students who complete the program with an 80 percent score (B or better) in core classes will qualify for the NUCP Certificate, which is recognized industry wide.
Graduates of this program will be prepared for entry-level employment in the following areas:
Electrical technician
Instrumentation and control (I&C) technician
Mechanical technician
Graduates with additional training experiences will be prepared for employment in the following areas:
Non-licensed operator
Radiation protection technician
Senior reactor operator 
NUCLEAR ENGINEERING TECHNOLOGY MISSION STATEMENT
The Nuclear Engineering Technology program provides the students with nuclear industrial experience within the academic environment through laboratory projects, experimentation, classroom lecture and demonstration leading to industry recognized credentials, employment in the nuclear power industry or opportunity for advanced education leading to an AAS degree or beyond.
PROGRAM OUTCOMES
Describe and apply the culture of safety, continuous improvement, and peer checking
Explain the requirement for documentation, formal procedures, and record keeping for nuclear related activities
Describe the main systems in a nuclear power plant, and how they are used in power generation
Identify typical power plant components and explain their function
Describe different sources of radiation, their effects on organic matter, methods of detection, and shielding 
Identify and define problems in mathematics and scientific terms
Recognize assumptions and limits of analysis to the application of technology, including social and ethical implications
Recognize the need to engage in lifelong learning, and to perform research or conduct investigations to continuously upgrade knowledge and skills
Communicate effectively, and work as part of a team
Nuclear Engineering Technology Contact Information
Martin Dubois
Associate Professor of Mechanical Engineering Technology