If you are age 25 or older and don't have a college degree, you could attend Monroe County Community College TUITION-FREE.     
Through Michigan Reconnect, a program of the State of Michigan, students who are age 25 and up can apply to attend MCCC tuition-free to earn an associate degree or Pell Grant-eligible skill certificate. Michigan Reconnect is designed specifically for eligible adults who want to start – or finish – an associate degree, technical degree or skills certificate.
Returning to school may be a big, difficult decision. But this is the right time to do it.
To be eligible*, you must:
Be at least 25 years old when you apply
Be a Michigan resident for at least 1 year (U.S. citizen or eligible noncitizen)
Be a resident of Monroe County
Have a high school diploma or equivalent (e.g., a GED)
Have not yet earned an associate or bachelor's degree
*Additional eligibility requirements may apply.
VISIT THE MICHIGAN RECONNECT SITE TO LEARN MORE
Apply Now for the Michigan Reconnect Program
MCCC Reconnect Program Graphic
*right click image to download
Helpful Links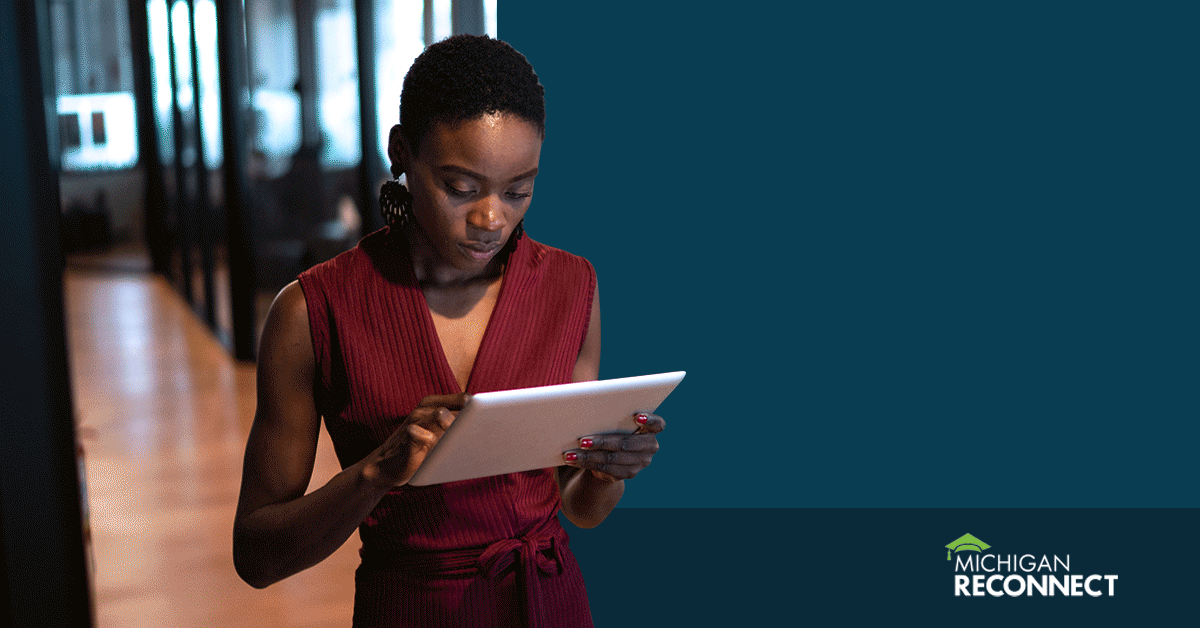 Questions? We're here to help.
Do you have questions?  Check out the FAQ section below.  This section also outlines some additional requirements for both obtaining and retaining Michigan Reconnect funding.
Please reach out to the Office of Financial Aid via the contact information detailed below.  Our financial aid specialists are waiting to hear from you and are ready to assist you in taking advantage of the opportunities provided by this exciting new program.
Are there credit hour requirements for Michigan Reconnect funding?
Yes. Students who receive Michigan Reconnect funding must take six credit hours each semester to receive the funding. They must also complete 12 credit hours within a 12-month period to retain the funding.
What is the GPA requirement?
Students need to maintain at least a 2.0 grade point average since the start of receiving Michigan Reconnect funding.
Do I need to apply for financial aid?
Yes. In order to receive Michigan Reconnect funding, students must have a completed Free Application for Federal Student Aid on file for the correct academic year. For Summer Semester 2021, a 2020-21 FAFSA is needed. For Fall Semester 2021, a 2021-22 FAFSA is needed.
What costs does Michigan Reconnect cover?
The program covers Monroe County-resident tuition for billable contact hours, as well registration and technology fees.
What costs does Michigan Reconnect not cover?
It does not cover lab fees, course fees, books and supplies.
If I live outside Monroe County, can I still take advantage of Michigan Reconnect Funding at MCCC?
Yes, but the program will not cover the difference between in-country tuition and out-of-county tuition. 
Accounting Certificate
Administrative Office Specialist Certificate
Automotive Engineering Technology Certificate
Automotive Service Technology Certificate
Computer Information Systems: App Development Certificate
Computer Information Systems: System Administration Specialist Certificate
Computer Information Systems: PC Support Technician Certificate
Construction Management Technology: Heavy and Industrial Certificate Criminal Justice Certificate
Construction Management Technology: Residential and Light Commercial Certificate
Criminal Justice Certificate
Culinary Skills and Management Certificate
Cybersecurity and Information Assurance Certificate
Early Childhood Education Certificate
Graphic Design: Digital Media Certificate
Graphic Design: Illustration Certificate
Graphic Design: Web Design Certificate
Mechanical Design Technology Certificate
Metrology Technology Certificate
Practical Nursing Certificate
Product and Process Technology: CAD/CAM Technician Certificate
Product and Process Technology: CNC Technician Certificate
Quality Technology Certificate
Solar Energy Certificate
Web Design – Basic Certificate
Welding Technology: Advanced Certificate
Wind Energy Certificate
Accounting
Automotive Engineering Technology
Automotive Service Technology
Business Management
Computer Information Systems: Accounting
Computer Information Systems: App Development
Computer Information Systems: Computer Science
Computer Information Systems: Cybersecurity and Information Assurance
Computer Information Systems: Office Professional
Computer Information Systems: PC Support Technician
Computer Information Systems: System Administration Specialist
Construction Management Technology
Criminal Justice/Law Enforcement
Early Childhood Education
Electrical Engineering Technology
Fine Arts
Game Design and Development
General Technology
Graphic Design
Graphic Design: Digital Media
Graphic Design: Illustration
Graphic Design: Interaction Design
Manufacturing Technology
Mechanical Design Technology
Mechanical Engineering Technology
Nuclear Engineering Technology
Nursing, Registered
PN to RN Program Option
Respiratory Therapy
Teacher Paraprofessional (Elementary Education)
Welding Technology