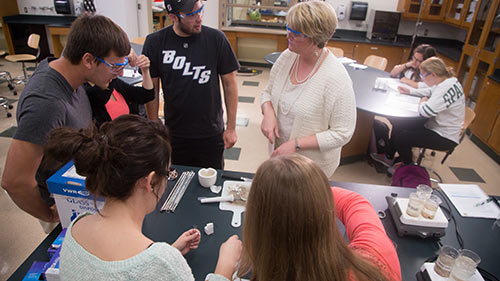 Trained student tutors and faculty specialists work with students both individually and in small study groups. Student tutors are students who are proficient in the courses they tutor and are recommended by their instructors. Faculty specialists have credentials that are similar to those of our faculty, and many have experience teaching at MCCC or other colleges or universities. In general, faculty specialists have years of experience helping students succeed.
Students who utilize tutoring services at MCCC can expect to gain a better understanding of questions and/or concerns they have about their coursework, suggestions for improvement, study strategies, insight into instructor expectations and the understanding of how to link new material with what they already know.
One-on-one tutoring is the most common type of tutoring. Students work individually with a tutor to discuss course-related questions, concerns or study strategies. Since tutoring sessions are customized to the specific needs of the individual, a student should come prepared with questions so the available time can be used efficiently.
Group tutoring occurs in one of two ways. Because many students find group sessions productive, two or more students in the same class can schedule back-to-back or concurrent appointments with a tutor. This can be done on a one-time basis or can be reoccurring. In addition, the Student Success Center sometimes schedules group tutoring sessions for a class. Information regarding these sessions are given during class and students are not required to make an appointment to attend.
On-line tutoring is available: Go to https://tutor.monroeccc.edu to make an appointment.
As part of MCCC's tutoring and learning assistance services, the Student Success Center also provides study skills assistance.  Examples of topics covered include organizing for effective study, textbook strategies, note taking skills, test taking strategies, studying for tests, stress management, proven learning tools, goal setting, learning styles and time management.
Tutoring is normally provided by appointment. Walk-ins are accepted, but immediate tutoring is often unavailable. To make an appointment on the Main Campus, call the Student Success Center at (734) 384-4167 or visit the center in person located in the Student Success Center, Founders Hall, Room F-148.
Students can also make an appointment online.
Students requesting tutoring should be prepared to provide the following information:
Name, phone number and student ID number
Course number tutoring is needed for (for example, MATH 151)
Instructor's name
Reason for the appointment (e.g., text review, homework assistance, etc.)
Textbook chapter number, if applicable
Tutoring for MCCC has a number advantages:
You can often arrange work times around your class schedule, you can earn extra money without added travel time or expense.
MCCC provides training on tutoring strategies, study skills and learning styles that you can apply in your own studies.
Tutoring is excellent experience to put on a resume.
If you are interested in becoming a tutor, please contact the Student Success Center. Student tutors must have earned an A or B in the courses for which they wish to tutor. Normally, they must also receive a recommendation from the instructor verifying proficiency and ability to work with other students. The recommendation is requested by the Student Success Center staff.