Ethel K. (Russeau) Fountain
"Aunt Ethel's" gift makes college possible for 12 or more students each year 
For twelve very fortunate Monroe County Community College students the cost of a college education was significantly reduced this year because of the generosity of a woman who was in their position nearly 50 years ago.  
These twelve students from across Monroe County are the first of many groups of students who will benefit from the generosity of Ethel K. (Russeau) Fountain.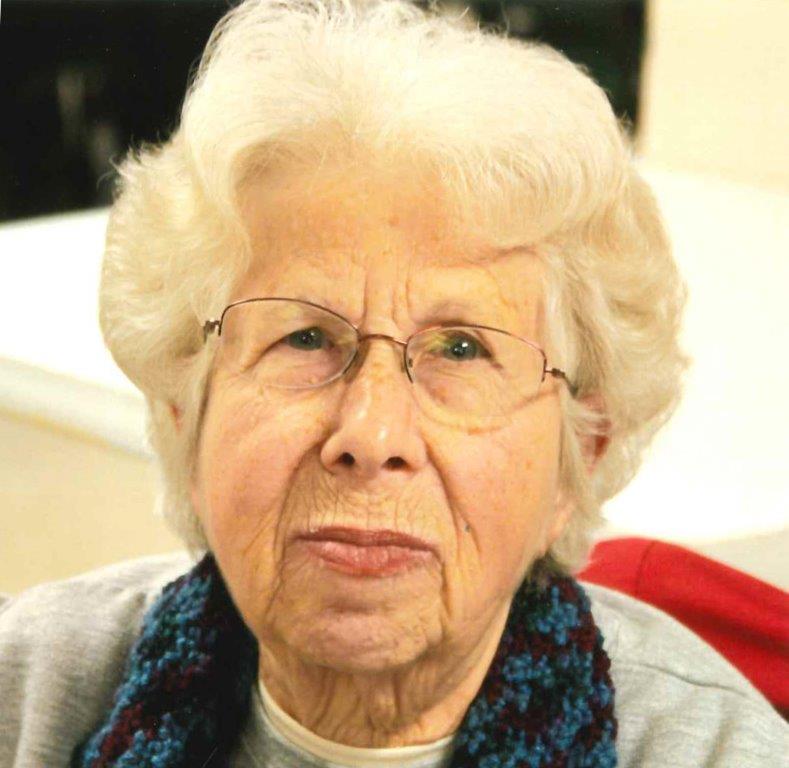 Ethel Russeau was born in Monroe in 1927. After graduating from Monroe High School, she married Ronald J. Fountain in 1952 and the couple made their home in Monroe.  
As a non-traditional adult learner, she attended MCCC and earned a general business management certificate in 1976. She worked for the Michigan Bell Telephone Company as a switchboard operator and as a paper assembler for the Monroe Evening News prior to her retirement in 1992.  
"Throughout their lives Ethel and Ron were hard workers, and excellent savers and investors," said Michele Mizell, one of several nieces and nephews. Ron passed away in 2000. 
In 2015, after realizing she had amassed an amount of money that could make a large impact on others in the community, Ethel reached out to The Foundation at MCCC to explore options. Although many years had passed, she never forgot the impact MCCC had on her life.  
"She grew up poor, in a family that couldn't afford to send anyone to college. She also believed that education was the key to earning a good living," said Mizell. "Helping students through The Foundation was the right fit."  
Ethel made the very generous decision to create the Ethel K. (Russeau) Fountain Endowed Scholarship. Funded through her estate, the scholarship supports students enrolled in any of MCCC's 13 applied technology programs. As a non-traditional student herself, she especially wanted to support students who are returning to college to prepare for a hands-on technical career. 
"During the time we were working with her to establish her endowment, everyone in The Foundation came to fondly refer to her as 'Aunt Ethel'," said Dr. Joshua W. Myers, executive director of The Foundation. "Aunt Ethel lived humbly. She saved and invested wisely. As a result, she left a sizeable estate to which she dedicated 70 percent to her scholarship."  
When she passed away in 2018, Ethel's planned gift was the single largest scholarship donation in the history of the college, exceeding $700,000. In the 2019-2020 inaugural award year of the Fountain Endowed Scholarship, 12 students from all over Monroe County were recipients. "Because the scholarship is endowed, The Foundation will continue to award significant scholarships to countless more fortunate students in perpetuity," said Dr. Myers.  
Inaugural Fountain Endowed Scholarship
Each of the 'inaugural' Fountain Endowed Scholarship recipients received $2,000 for tuition, fees and books for the 2019-2020 academic year. The group includes: 
John Clagg of Newport received his GED in 2001.  He will be attending MCCC to receive a degree in automotive service technology.  John is the son of John and Mary Clagg, husband to Jessica and father to Noah. 
Jazlyn Clark of Monroe is a 2018 graduate of Monroe High School. She is studying construction management technology while attending MCCC.  Clark is the daughter of Heather and John Clark. 
Kyle Haener of Newport is a 2016 graduate of Jefferson High School.  He is studying welding technology at MCCC.  Haener has participated in SkillsUSA welding competitions and is a member of MCCC's intramural basketball league.  He is the son of John and Rhonda Haener. 
Dominic Hall of Lambertville is a 2019 graduate of Bedford Senior High School.  He will be pursuing a degree in either the welding program or automotive program while attending MCCC.  He is the son of Cherise and Anthony Hall. 
 Jessica Hutson of Monroe is a 2019 graduate of Monroe High School.  She is studying nuclear engineering technology while attending MCCC.  Hutson was a member of the all-women's select choir at MHS and has volunteered helping the Fire Explorers.  She is the daughter of Donelda Kinne and Jeff Hutson. 
Cody Leach of Monroe is a 2018 graduate of Monroe High School.  He is pursuing a degree in welding technology while attending MCCC.  He volunteers his services on local farms to help groom, feed and tend to horses and other farm animals along with plowing fields, repairing equipment and harvesting fields.  Leach is the son of Jason and Michelle Leach. 
Michelee Ridgon of Monroe is a 2004 graduate of Monroe High School.  She is completing her associate degree in construction management technology while at MCCC and then plans to transfer to Eastern Michigan University to obtain her bachelor degree.  Ridgon is the daughter of Kenneth Ridgon and Rhonda Henhawk. 
John Robbins of Monroe is a 1993 graduate of Taylor Truman High School in Taylor, Michigan.  He is studying mechanical design technology while at MCCC.  
Spencer Stevens of Monroe is a 2000 graduate of Monroe High School.  He is pursuing a mechanical design technology certificate while attending MCCC.  Stevens has volunteered and worked for MCCC as a student assistant in the Introduction to Machining and CNC and Introduction to SOLIDWORKS classes, is a Learning Assistant Lab tutor and is on the Mechanical Design Technology Advisory Committee representing students.  Stevens is the spouse to Megan Bailey. 
Dominic Tedora of Monroe is a 2019 graduate of Monroe County Middle College.  He is pursuing a welding technology degree at MCCC and plans to transfer to Ferris State University pursuing a welding engineering degree.  He is currently training for his third black belt in Kai-Zen Do.  Tedora is the son of Deric Tedora and Danielle Nebehay. 
 
Destiny Watkin of Newport is a 2016 graduate of Jefferson High School.  She is pursuing a nuclear engineering degree while attending MCCC.  
Kendra Wegienka of Flat Rock is a 1993 graduate of Woodhaven High School, Brownstown Charter Township, Michigan.  She is pursuing a degree in welding technology while at MCCC.  She is the mother to Matthew and Jacob. 
Amber Wiener of Newport is a 2008 graduate of Powell Valley High School in Big Stone Gap, Virginia.  She is pursuing a degree in construction management technology while attending MCCC.  She has been involved in a Boathouse/Gift Shop design project to be built in Cross Village, Michigan.  She is the daughter of Alfred Wiener, Jr. and Kimberly Zuniga and the mother to Aron Nickels.  
Other Donor Spotlights
The success of The Foundation at MCCC and the important work being done is made possible by the generosity of our donors. Read more about these generous people and organizations who have had such an important impact on MCCC, our students and our community. 
Shirley A. Meyer forever changed Monroe County Community College.  In 1998, just two months after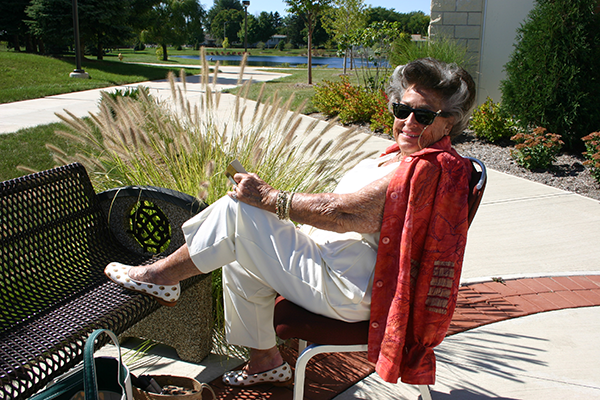 The Foundation's incorporation, Mrs. Meyer presented The Foundation with a $1 million donation. Her gift launched this young organization with momentum and enthusiasm unparalleled in our community.
Mrs. Meyer's leadership and philanthropic spirit, coupled with her belief in the mission of the College and her desire to give back to the community she so dearly loved, stand as ideals for all of us.
She remains the only individual donor whose cumulative giving to MCCC exceeds $1 million. 
Following the passing of Mrs. Meyer in 2013, and in celebration of the 10th anniversary of the La-Z-Boy Center, a performance of Jeff Daniels was dedicated to the life and memory of Mrs. Meyer in the theater that proudly bears her name. This above video was shown that evening.
The Foundation at MCCC received the largest donation by an individual in its 20-year history in 2019 from Gary J. Vajcner, a local businessman and philanthropist.
During a ceremony at Monroe County Community College dozens of faculty, staff and students surrounded Gary and his family as he presented a $1.1 million donation to The Foundation at MCCC in memory of his wife, Patricia A. Vajcner, and in tribute to the life they built together. (Watch a video of the ceremony here.)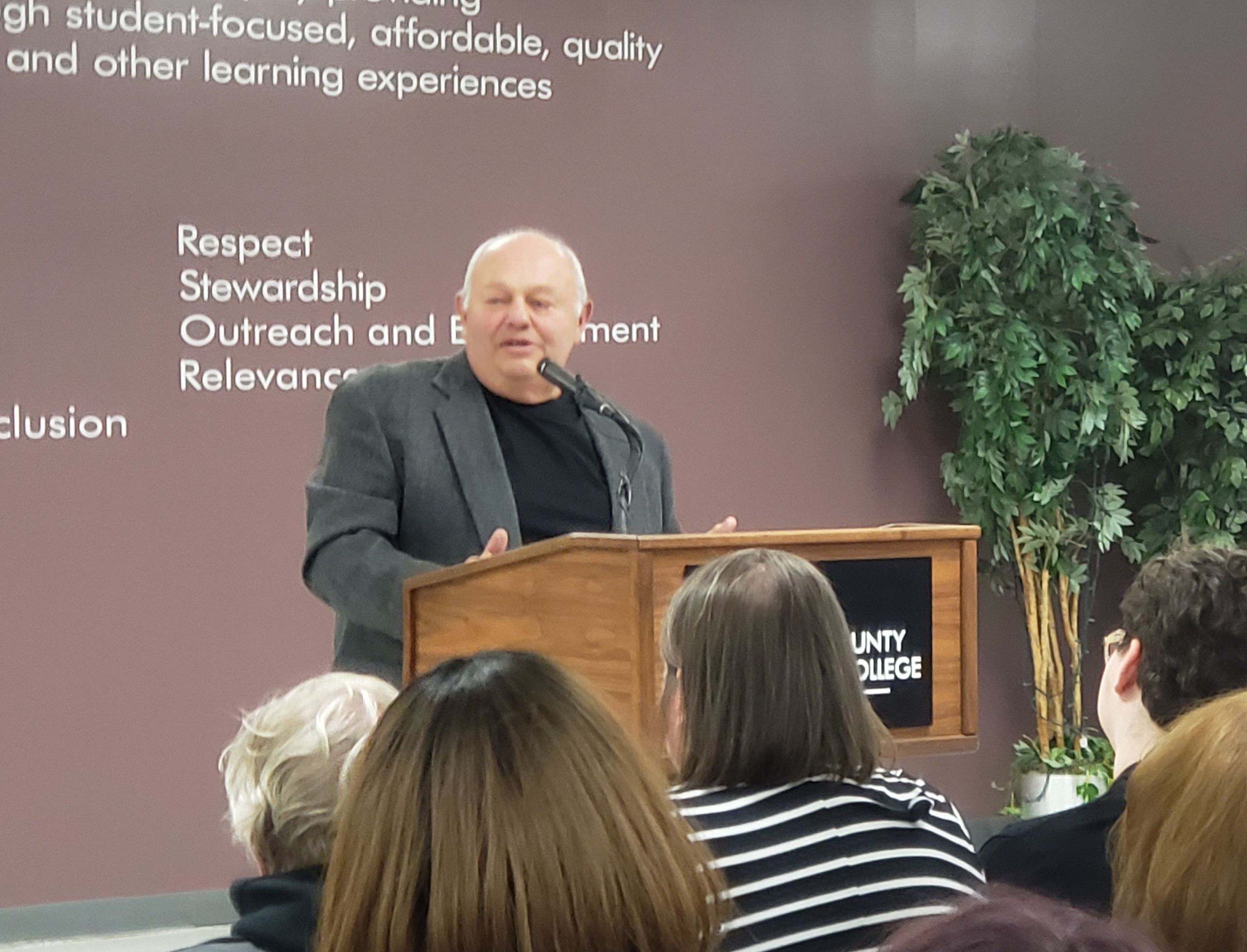 The majority of the gift will be used to enhance student and instructional spaces on campus.  The remaining $50,000 will be used to establish the Patricia A. Vajcner Memorial Scholarship.
In recognition of the gift, MCCC will name two major spaces on campus to honor Gary Vajcner and his late wife who passed away on March 27, 2019.
The central commons area of the combined East and West Technology buildings – set to open in fall 2020 – will be named the Gary J. and Patricia A. Vajcner Academic Commons. 
The machining suite of the Career Technology Center will be named the Gary J. and Patricia A. Vajcner CNC Machining Suite.
The Patricia A. Vajcner Memorial Scholarship will provide scholarship support for MCCC students who enroll in skilled trades programs, with strong preference given to students pursuing degrees or certificates in product and process technology. 
"It's donors like Gary Vajcner who play such a vital role in enhancing the educational experiences of our students, and, ultimately, contributing to their success," Dr. Kojo Quartey, president of MCCC, said.  "We are extremely grateful for his generosity to our college and the community we serve."
"Both Patricia and I come from very humble beginnings," said Gary Vajcner.  "After graduating high school locally in 1964, I joined Ford Motor Company, completed a tool and die apprenticeship and earned my associate degree from Highland Park Community College. Patricia worked in retail for several years until the children came along."
While raising their children, Patricia Vajcner ran several in-home businesses and later ran Craft and Concrete Village on Bluebush Road, employing 10 local residents, while Gary Vajcner continued to advance in his career at Ford.  After retiring as a tool room supervisor, he went on become the tool room manager at Draw-Tite Manufacturing through the consolidation of Reese Manufacturing and Draw-Tite.  Upon his second retirement he established his own international consulting firm, Vajcner Tooling Solutions, which he operated for eight years.  This venture led to him often working in China.
In addition to their support of MCCC, the Vajcners were major funders of the President James Monroe statue in downtown Monroe, the Flags over Veterans project and the purchase of a saw mill for the River Raisin National Battlefield Park. In August, Gary Vajcner bought all three 4-H grant champions at the Monroe County Fair. "Throughout our marriage and lifelong partnership, Patricia and I were involved in real estate investing, especially in Monroe," Vajcner said.  "After years of success in that arena, we decided we wanted to start giving back to our community."
"We felt very strongly that investing in the college was an opportunity for us to 'pay it forward'. We wanted to set an example, help students reach their full potential, and in turn we hope our gift will grant those who benefit with both the ability and inspiration to carry our generosity through to the next generation with their own giving," Vajcner explained.  
He said that he credits his wife for the success they achieved together and wanted to honor her with this donation to the college.
"Gary is a strong proponent of education and values MCCC's commitment to providing student-focused learning environments and access to learning opportunities through scholarships," said Dr. Joshua Myers, executive director of The Foundation at MCCC.   
"He is the true embodiment of the American Dream.  Through hard work, determination and wise investment, he and Patricia rose from modest beginnings to earn prosperity in life.  More importantly, though, he represents the generosity of the America spirit through his heartfelt desire to return back a measure of his success into his community. This remarkable gift will help future students explore new ideas, develop new skills and achieve an education that will make them both employable and successful."