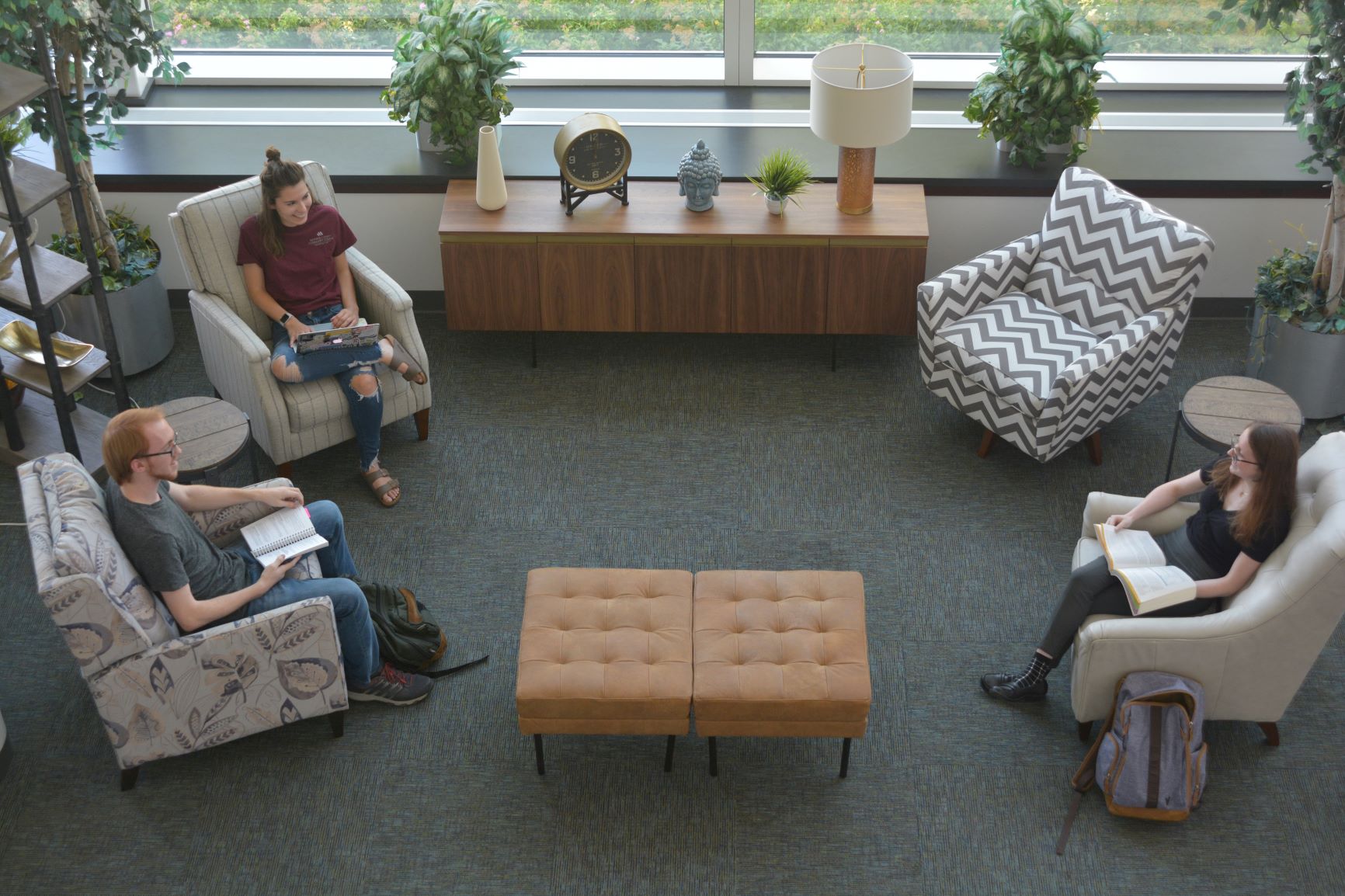 MONROE, Mich. – Visitors to the La-Z-Boy Center this fall will notice a new look and welcoming atmosphere when they enter the facility.
The building's atrium received a facelift courtesy of The La-Z-Boy Foundation. New furniture and other updated furnishings were recently installed in the large open-concept reception and lobby area.
The 52,000-square foot facility, located on the Main Campus of Monroe County Community College on Raisinville Road in Monroe, houses the 550-seat Meyer Theater, offices for the Corporate and Community Services Division, meeting spaces, computer labs and classrooms. Built in 2004, the La-Z-Boy Center is a hub for cultural arts programming, customized training for business and industry, and space for community activities and conferences.
"With the new season of performances, concerts and other cultural events ready to launch in the coming weeks, the timing of La-Z-Boy's donation is perfect," said Dr. Joshua W. Myers, executive director of The Foundation at Monroe County Community College. "The new furnishings provide a comfortable and attractive space for patrons to gather prior to events, as well as a quiet place for students to study and collaborate during the school day."
The latest refurbishment of the Atrium is one of many that La-Z-Boy has provided through the years. In addition to the lead corporate gift that resulted in the naming of the La-Z-Boy Center, other examples of the company's support of the college and the community include major sponsorship of the college's annual Cultural Events Series, sponsorship of the annual One Book, One Community initiative and major support for the construction of the college's Career Technology Center in 2013, which houses the La-Z-Boy East Wing.
"La-Z-Boy has an incredible track record of generosity in our community and we are so grateful for their trust and support," said Myers.
"From the earliest days when Edwin J. Shoemaker and Edward M. Knabusch founded La-Z-Boy in 1927, active support, membership and participation in the community have been ingrained into our corporate culture," said Susan Vanisacker, director of community relations and La-Z-Boy Foundation. "La-Z-Boy proudly works hand-in-hand with the college and The Foundation at MCCC to identify opportunities to benefit Monroe County, especially in the educational and cultural realm."
About Monroe County Community College
Founded in 1964, Monroe County Community College is a public, two-year institution supported by tax monies from Monroe County, educational funds from the State of Michigan and student tuition. The college's mission is to enrich lives in our community by providing opportunity through student-focused, affordable, quality higher education and other learning experiences. The Main Campus is located at 1555 South Raisinville Road, Monroe, Mich., 48161, with easy access to Toledo and Detroit. The Whitman Center is located in Temperance, Mich., 48182, near the Ohio-Michigan Border. Detailed information about MCCC is available at www.monroeccc.edu.