Monroe County Community College has been awarded two grants totaling $330,000 from the DTE Energy Foundation to improve access to educational and employment opportunities in Monroe County, with special focus on underserved populations, MCCC President Dr. Kojo A. Quartey and DTE Energy Foundation manager Dana Williams announced at news conference tonight.
The first grant of $300,000 will be used by the college over a three-year period to recruit and retain approximately 1,500 students studying in the disciplines of science, technology, engineering and mathematics (STEM) through a new STEM Scholars Program.
The second grant of $30,000 is being used to for a new Program to Accelerate Student Success (PASS), which will provide personalized support services to at least 50 first-generation, low-income and differently abled students who are enrolled at MCCC.
The STEM Scholars Program will create an active learning community of students who will successfully complete their educational goals of earning an associate degree or credit certificate in a STEM-related discipline and entering the workforce or transferring to continue their study in a baccalaureate program.
Students in the program will have experienced and dedicated success coaches who will help them achieve their career goals. These coaches will communicate to STEM Scholars the importance of skill building and other needed academic requirements to help them succeed in their respective areas of study. The STEM Scholars success coaches will serve as advocates for program students and promote strategies for increasing retention and completion.
"We believe that all students deserve an opportunity to continue their education and that success in STEM is a solid foundation for 21st century careers," Williams said. "Our Foundation is proud to support the important work that Monroe County Community College is doing in these areas, helping students to succeed academically and grow as individuals."
The goals of the STEM Scholars program are to increase the number of students enrolling in STEM-related courses, with a special focus on financially needy and underrepresented students; increase the retention of STEM Scholars and to help them with their academic and career goals; strengthen collaboration among the various units within the college to support successful implementation; enhance the current relationships with employers from industries in STEM-related areas, and facilitate increased opportunities for technically competent STEM Scholars.
"In recent decades there has been a decline in the number of students choosing to take courses related to science, technology, engineering and math, which appears to start in middle school and continues all the way through college," Quartey said.
"This grant from the DTE Energy Foundation will greatly assist MCCC in helping more students in Monroe County, including many from underserved populations, engage in and complete college-level STEM education.  These students will receive the learning support they need to complete STEM sequences that build upon each other and can be used with real-world applications leading to successful, satisfying occupations throughout their lifetimes."
The PASS Program's goal is to achieve at-risk student success through comprehensive, one-on-one counseling and wraparound services, including tutoring, drop-in assistance, and study and coping skills sessions.  In addition, the program will be a vehicle for improving engagement and the academic climate for these students to ensure success.  Like the STEM Student Scholars Program, students in the PASS Program will be provided with a dedicated success coach who will help them achieve their educational and career goals.
Among the objectives of the PASS program will be to identify the 50-student cohort of participants who are low-income, the first in their family to attend college, minorities or disabled and ensure that 85 percent or more of them maintain a 2.5 GPA or higher, 80 percent or more are retained and 50 percent or more complete their stated goal as declared at the beginning of the program.
"These at-risk MCCC students will have an experienced and dedicated professional who will communicate to them the importance of skill building and other academic requirements, as well as help them understand the value of their academic endeavors," Quartey said.  "These students will have their very own learning 'agent' to assist and encourage them to build a pattern of success."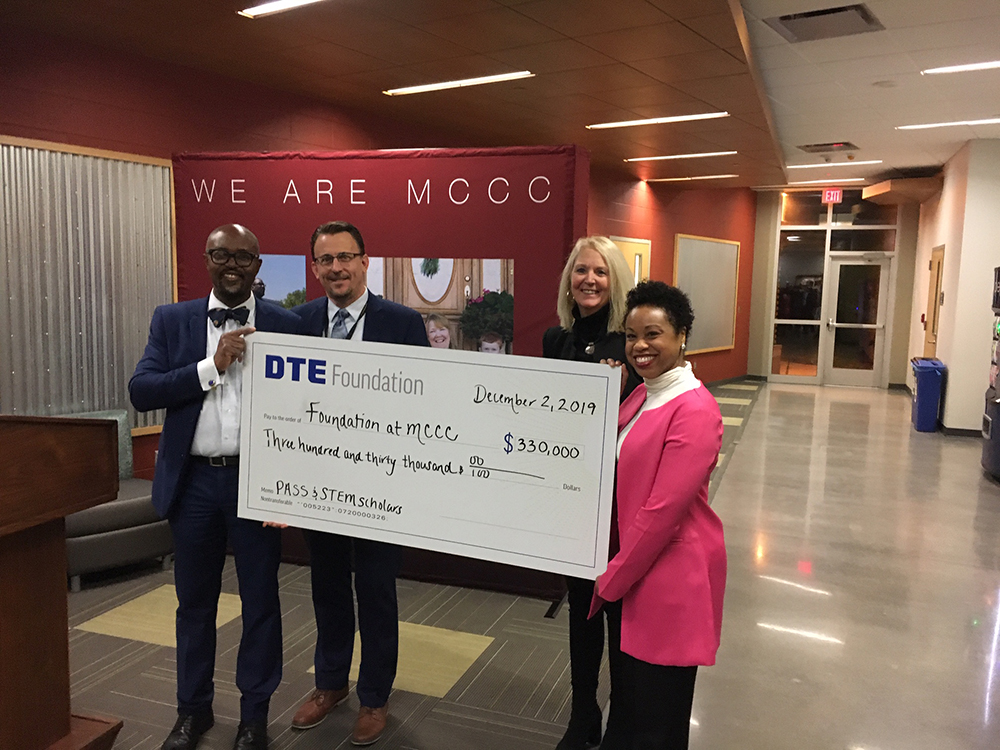 From left, MCCC President Dr. Kojo A. Quartey, MCCC Board Secretary Aaron N. Mason, MCCC Board Chair Lynette Dowler and DTE Energy Foundation Manager Dana Williams.
About Monroe County Community College
Founded in 1964, Monroe County Community College is a public, two-year institution supported by tax monies from Monroe County, educational funds from the State of Michigan and student tuition.  The college's mission is to enrich lives in our community by providing opportunity through student-focused, affordable, quality higher education and other learning experiences.  Its vision is to be recognized for student-focused service, academic excellence, affordability, innovation, community responsiveness and student success. 
The Main Campus is located at 1555 South Raisinville Road, Monroe, Mich., 48161, with easy access to Toledo and Detroit.  The Whitman Center is located in Temperance, Mich., 48182, near the Ohio-Michigan Border.  Detailed information about MCCC is available at www.monroeccc.edu.
About the DTE Energy Foundation
The DTE Energy Foundation is the philanthropic arm of DTE Energy (NYSE: DTE), continuing the legacy of community support and involvement of its electric and natural gas utilities, which serve 2.2 million electric customers in Southeast Michigan and 1.3 million natural gas customers in Michigan. In 2018, the DTE Energy Foundation provided $18 million in grant support to non-profits throughout the company's service territories. As one of Michigan's leading corporate citizens, DTE Energy is a force for growth and prosperity in communities across Michigan in a variety of ways, including philanthropy, volunteerism and economic progress. Visit www.DTEFoundation.com to learn more.  
###