Monroe County Community College has been awarded the Native American Heritage Fund's largest grant of 2019 – $199,234 – to create curriculum and a set of immersion experiences for K-12 students that are focused on how to research stories from the Native American perspective, MCCC President Dr. Kojo A. Quartey announced today at a news conference at the college.
MCCC applied for the grant in partnership with the River Raisin National Battlefield Park and three Native American groups - the Wyandotte Nation of Oklahoma, the Turtle Island Dream Keepers and the Wyandot of Anderdon Nation.
Six other organizations throughout the state received NAHF grants ranging from $6,000-$134,612.80.  A total of $480,000 was awarded.
The NAHF is a unique funding initiative that supports and promotes positive relationships and accurate information about the history and role of Michigan's Indian tribes and Native Americans in the state. 
Through the grant project, titled "A Journey towards Understanding and Reconciliation," the five parenting entities will invite several Native American nations and educators to join them to expand upon and broaden the focus on Native Americans that started several years ago and still continues.
The grant project application states that "History can be told from many different perspectives, and one perspective that is often neglected is that of the many different Native [American] Nations. This needs to be corrected and accurately told in order to ensure that future generations do not create policies and enact laws based on historical fallacies. It is imperative that we debunk the myths and 'un-teach' the narrow and biased perspectives of the past. We must teach our children and future generations the facts as we attempt to influence positive social change. To that end, we journey toward better understanding history and reconciling with each other, as we keep this great nation focused on the diversity on which is was built."
"This NAHF project is directly in line with MCCC's mission of 'enriching lives in our community' not only in the college classroom but also through other learning experiences," said President Dr. Kojo A. Quartey.  "It also aligns with our core value of diversity and inclusion, which we define as celebrating the individuality and diversity of our students, community, nation and world.
"At MCCC, some of the key ways we accomplish our mission is through key partnerships to enhance educational services and opportunities and by providing a wealth of opportunities for intellectual, cultural and personal enhancement.  MCCC will be leading these efforts with our partners as we work on transforming an entire community by promoting positive relationships, mutual respect and cooperation between local communities, the public and Native Americans."
Below are the general objectives of the grant project:
A history of the Native people from southeast Michigan that highlights important historical locations and the history of various tribes that are involved in the project will be provided. This will emanate from papers written by educators and students who enroll in specific college classes and sign up for internships and immersion experiences.
Lesson plans will be created and updated by educators for K-12 grade students that are connected with Michigan's content expectations and curriculum based on the grade level expectations.
An art and essay contest will be designed to reinforce lesson plans created by educators and pilot tested with all grade levels.
Teaching aids will be created to bring alive the imagination of students both at the River Raisin National Battlefield Park and in classrooms.  These teaching aids will include items like native-made baskets, containers, drums, flutes, pipes, dream catchers, bows and arrows, and other traditional items.  Also included will be furs, feathers, flint and antlers for living history, as well as Native American craft kits, reproduction beadwork, bone art, jewelry, wampum belts, vests, warrior pipe bone breast plates and more. The artifacts and replicas will be loaned to teachers to assist with curriculum activities and also used at the battlefield to enhance field trip experiences.
A full-day, Native American field trip experience will be designed to support educator lesson plans and content expectations.
A one-week, immersion exercise/internship/paper project will be implemented through which students or any community member may spend a week on an Indian reservation or jurisdictional area, intern with a Native American tribe or firm, or conduct research on a Native Indian subject.
Raw video footage will be obtained of all locations visited during the original "Journey towards Understanding and Reconciliation" and the current "journey" and edited to create educational podcasts and YouTube videos to support classroom learning. A Facebook page will also be created to include all ongoing events.
A summer institute for 6-8 weeks for 15 educators and curriculum experts from Michigan tribal nations will be held at the college to develop and design lesson plans for K-12 courses and college-level history courses.
A coordinator for the grant project will be named this fall, and the timeline of the grant is fall 2019 through fall 2020, with final assessment occurring in spring 2021.
Other 2019 NAHF grants awarded include the following:
Bay de Noc Community College – $6,000 to publicly acknowledge the Treaty of 1836 through a public plaque on each campus and a Treaty Day celebration
Godfrey-Lee Public Schools – $98,000 to rebrand the current mascot from "Rebels" to a new mascot and nickname that is culturally responsive
Grand Rapids Community College – $5,285 to support the GRCC Education and Reconciliation Project, including a trip to the Ziibawing Center of Anishinaabe Culture and Lifeways and a Native American Speaker's Forum 
Indigenous Law and Policy Center at Michigan State University College of Law – $20,000 to provide a two-day symposium, Native Family Day and ancillary programming throughout the year
Northern Michigan University – $134,612.80 to expand Anishinabék language course offerings at undergraduate and graduate levels
The Friendship Community/LIFT Teen Center – $16,650 to support an overnight backpacking trip to South Minitou Island in Lake Michigan, exposing students to the history of the Ottawa tribe
About Monroe County Community College
Founded in 1964, Monroe County Community College is a public, two-year institution supported by tax monies from Monroe County, educational funds from the State of Michigan and student tuition.  The college's mission is to enrich lives in our community by providing opportunity through student-focused, affordable, quality higher education and other learning experiences.  Its vision is to be recognized for student-focused service, academic excellence, affordability, innovation, community responsiveness and student success.  The Main Campus is located at 1555 South Raisinville Road, Monroe, Mich., 48161, with easy access to Toledo and Detroit.  The Whitman Center is located in Temperance, Mich., 48182, near the Ohio-Michigan Border.  Detailed information about MCCC is available at www.monroeccc.edu.
About the River Raisin National Battlefield Park
The River Raisin National Battlefield Park was established as the 393rd unit of the U.S. National Park Service under Title VII of the Omnibus Public Land Management Act, which was signed into law on March 30, 2009.  The park is located in the city of Monroe in Monroe County, Michigan. It was designated as a Michigan Historic Site on February 18, 1956 and added to the National Register of Historic Places on December 10, 1982. It officially began operation as a national park unit on October 22, 2010 and is one of the four national battlefield parks in the country – and the only one marking a site of the War of 1812.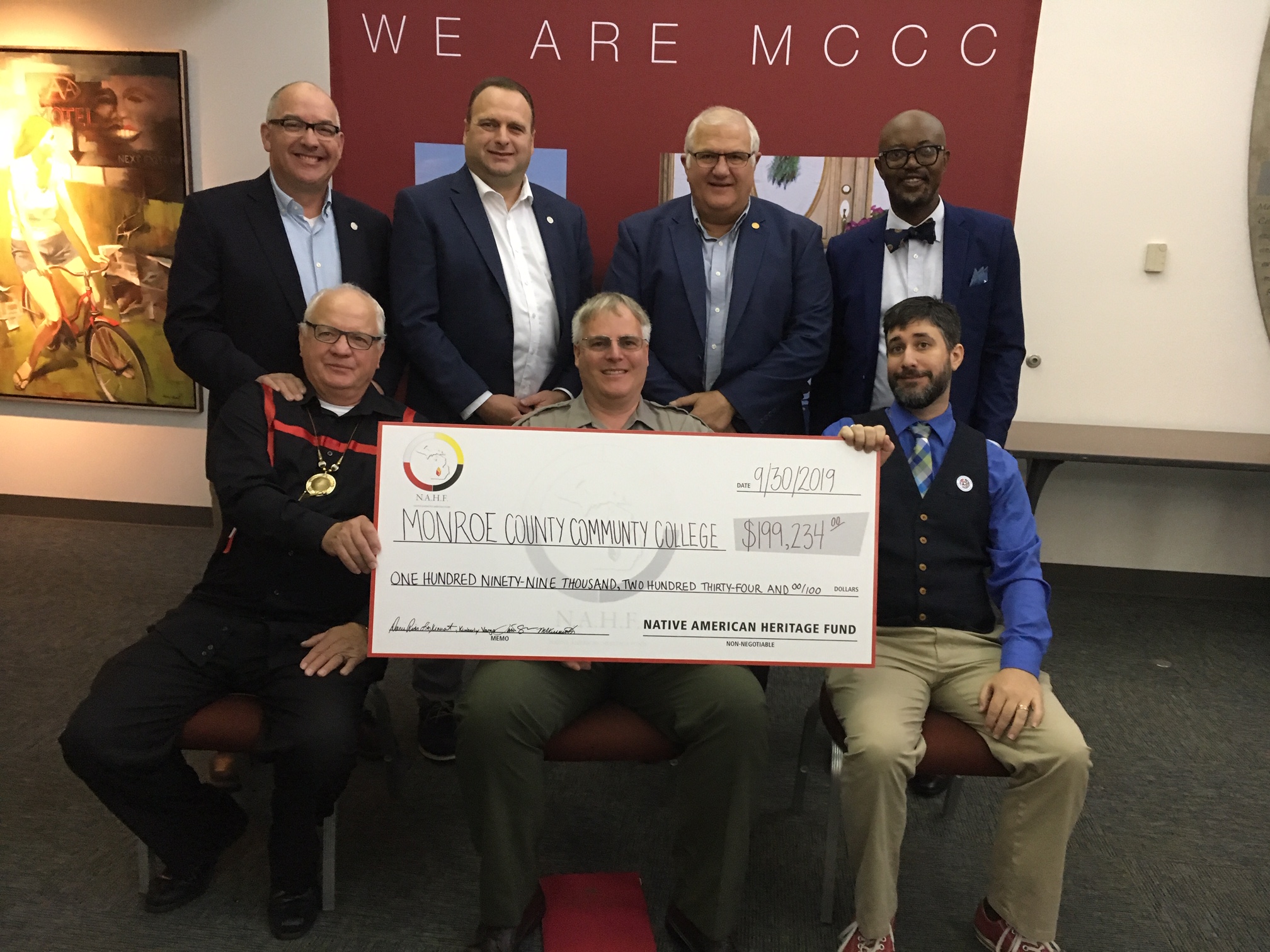 Top row, from left:  Rep. Joe Bellino,  Rep. Jason Sheppard, Sen. Dale Zorn, MCCC President Dr. Kojo Quartey
Bottom row, from left: Grand Chief of the Wyandot of Anderdon Nation Ted Roll, River Raisin National Battlefield Park Superintendent Scott Bentley, MCCC Assistant Professor of History Edmund La Clair