CONTACT: 
Gina Giacomini, Marketing Intern
August 5, 2021
FOR IMMEDIATE RELEASE
FACULTY OF THE YEAR AWARDS ANNOUNCED BY MONROE COUNTY COMMUNITY COLLEGE
Andy McCain, Adjunct Faculty of Year Award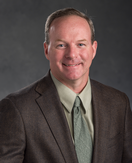 Monroe County Community College honored Andy McCain as the 2021 recipient of the Adjunct Faculty Award, one of two faculty awards presented each year, in a recent announcement by Dr. Grace Yackee, vice president of instruction.
Andy McCain, a lifelong resident of Ida, is the inaugural coordinator of the Agricultural Technology program at the college. The program provides students with a solid background in plant and soil science, precision agriculture management, entomology, plant pathology and additional fundamentals of agriculture. Andy teaches career seminar and agricultural compliance, regulation, and safety courses. He also coordinates summer internships for students in the agriculture program. 
According to Dr. Paul Knollman, recently retired dean of the college's Business Division, "Andy has been a wonderful addition to the team at MCCC. He has taken the agriculture program from ground zero to unimagined heights." According to students who nominated Andy for this award, he is a mentor and inspiration, and provides networking and career opportunities not otherwise available to students. 
Andy holds a Bachelor of Science degree in crop and soil science from Michigan State University. He serves on the boards of various community organizations, such as local high school Future Farmers of America, the River Raisin Institute, the American Farm Museum and Education Center, and Toledo Metropolitan Area Council of Governments Agricultural Advisory Committee.