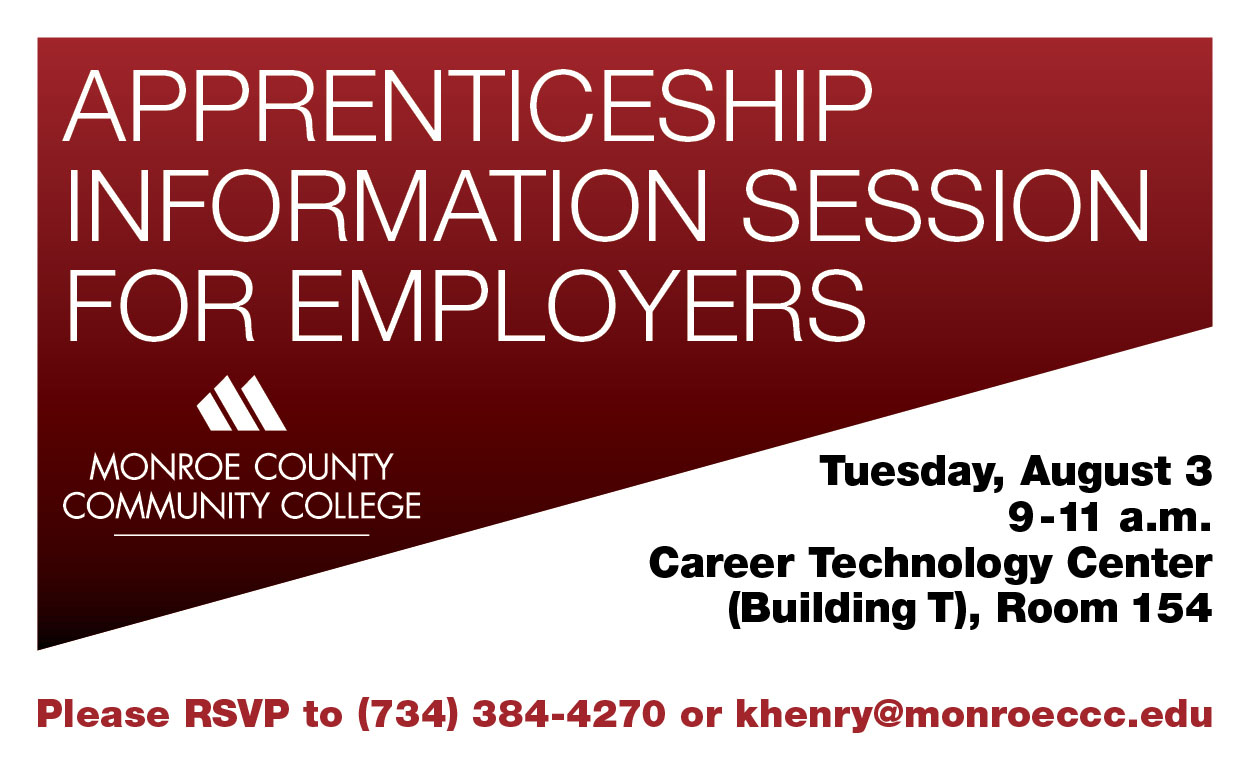 Monroe County Community College will host an Apprenticeship Information Session for employers on Aug. 3 from 9-11 a.m. in Room 154 of the Career Technology Center (Building T).
The Career Technology Center is located on MCCC's Main Campus at 1555 S. Raisinville Rd. in Monroe.
The session will highlight MCCC's course offerings that meet related technical instruction needs for apprenticeships.  In addition, current and prospective employer sponsors will get to meet MCCC apprenticeship instructors and Department of Labor representatives and get information on how apprenticeships can be started.
Russ Davis, Michigan state director for the Department of Labor's Office of Apprenticeship will present on occupations and apprenticeships, and Parmeshwar (Peter) Coomar, dean of the Applied Science and Engineering Division at MCCC, will outline MCCC's apprenticeship programs. Janene Erne, regional apprenticeship administrator with the Workforce Intelligence Network, will provide an update on grant funding.
At the session, MCCC will introduce its new experiential learning coordinator, Coomar said. The college recently hired Kris Henry in this role. Henry actively promotes partnerships between MCCC and businesses to participate in apprenticeships, internships and other learning opportunities.
The Fitzgerald Act, also known as the National Apprenticeship Act, officially authorized and established the national apprenticeship system in 1937. According to the Department of Labor, apprenticeship is limited to skilled occupations and trades that meet basic criteria. These occupations are customarily learned in a practical way through a structured, systematic program of on-the-job, supervised training supplemented by related technical instruction.
Apprenticeships are clearly identified and commonly recognized throughout an industry and involve the acquisition of manual or technical skills and knowledge. The Department of Labor states that there are currently more than 950 occupations recognized as apprenticeship eligible, and occupations are continually being added to the list.
An RSVP is required for the information session. To RSVP or for more information, please contact Henry at (734) 384-4270 or khenry@monroeccc.edu. 
About Monroe County Community College
Founded in 1964, Monroe County Community College is a public, two-year institution supported by tax monies from Monroe County, educational funds from the State of Michigan and student tuition. The college's mission is to enrich lives in our community by providing opportunity through student-focused, affordable, quality higher education and other learning experiences. The Main Campus is located at 1555 South Raisinville Road, Monroe, Mich., 48161, with easy access to Toledo and Detroit. The Whitman Center is located in Temperance, Mich., 48182, near the Ohio-Michigan Border. Detailed information about MCCC is available at www.monroeccc.edu