Monroe County Community College officials cut the ceremonial ribbon Nov. 7 on a new Veterans Center.
According to Gerald McCarty, director of student success at MCCC, the new center is a place where veterans can come to study, relax and find fellowship with other veterans. 

It is located in Room 141 in the recently renovated Founders Hall, right off the Vajcner Academic Commons. 
McCarty worked with Al Bond, commander of the Monroe Veterans of Foreign Wars, to make the Veterans Center a reality.
La-Z-Boy Inc. donated the furniture for the center.
Members from the Monroe VFW will be on the MCCC campus regularly  – a schedule will be released soon – to meet with veterans to answer questions, offer help, refer them to resources for benefits, assist them with obtaining military documents and records, and more, McCarty said.
"Monroe County Community College is dedicated to supporting our military veterans, and we welcome all of our veterans to utilize this inviting new space and access the services of our partners at the Monroe VFW," said MCCC President Dr. Kojo A. Quartey. 
"We also encourage all veterans eligible for educational benefits under applicable public laws to meet with our Registrar's Office for information, guidance and counseling to help them put those benefits to use."
In addition to the ribbon-cutting ceremony, MCCC is hosting a special Veterans Day Celebration on Thursday, Nov. 10 at 7 p.m. in the La-Z-Boy Center Atrium on the college's Main Campus at 1555 S. Raisinville Rd. in Monroe.
A number of organizations and individuals will participate in the ceremonies, including Presentation of the Colors by a combined guard of Civil Air Patrol, Sea Cadets and Young Marines in Monroe County, the National Anthem performed by Miss Monroe County, Payton Perry-Radcliffe; the nationally recognized Springfield High School (OH) JROTC Drill Team led by 1SG Ricky Thomas (US Army Ret.), John Geer, Well Band, Floral City Harmonizers, River Raisin Sweet Adelines and Bedford Cloggers. The keynote speaker will be Marylynn Brittain, Michigan Commander of the American Legion. Wayne Blank, U.S. Air Force (Ret.) will emcee the evening and will also be joined by Pastor Curtis Garland, US Navy (Ret.) and Pastor Louie Barnett, U.S. Army (Ret.), who will open and close the event with prayers, respectively. The Veterans Day Celebration is free and open to the public.
There are several other veterans-focused events scheduled during November as part of the college's Cultural Diversity initiative. More information on these and all other events at MCCC can be found at www.monreccc.edu/events./ 
MCCC has been designated a Silver-level Michigan Veteran-Friendly school by the Michigan Veterans Affairs Agency for 2022-23. 

The Michigan Veteran-Friendly Schools Program recognizes academic institutions committed to supporting the needs of veterans and military-connected students.
This designation was based on the following criteria met by MCCC:

•    Identification of military/veteran status
•    Application fee waiver
•    On-campus veteran's coordinator
•    Veteran-specific website
•    Veteran's lounge
•    Graduation rate tracking
•    Academic performance tracking
•    Peer support/mentoring program
•    Veteran-specific scholarships/grants
•    Veteran graduation recognition
•    Evaluation of military service for academic credit
For more information about Veterans Services at Monroe County Community College, visit www.monroeccc.edu/veterans or contact Tracy Vogt, registrar, at (734) 384-4108 or tvogt@monroeccc.edu. 
About Monroe County Community College
Founded in 1964, Monroe County Community College is a public, two-year institution supported by tax monies from Monroe County, educational funds from the State of Michigan and student tuition.  The college's mission is to enrich lives in our community by providing opportunity through student-focused, affordable, quality higher education and other learning experiences.  The Main Campus is located at 1555 South Raisinville Road, Monroe, Mich., 48161, with easy access to Toledo and Detroit.  The Whitman Center is located in Temperance, Mich., 48182, near the Ohio-Michigan Border.  Detailed information about MCCC is available at www.monroeccc.edu.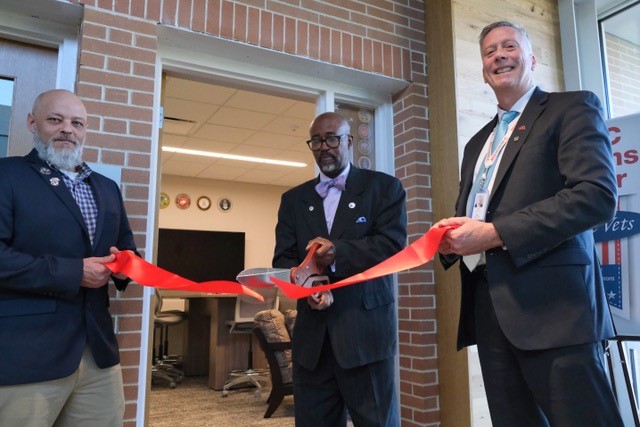 Alvin Bond, Monroe VFW post commander and district VFW officer; Dr. Kojo Quartey, president of MCCC and Gerald McCarty, director of student success at MCCC cut the ribbon on the new Veterans Center at MCCC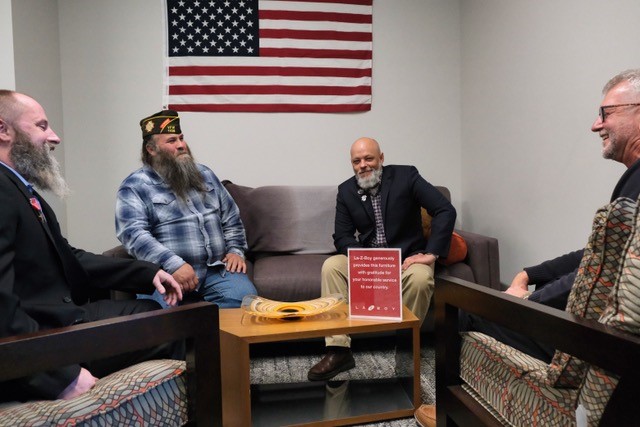 Several veterans who participated in the ribbon cutting relax afterwards and enjoy some of the accommodations of the Veterans Center, with furnishings provided by La-Z-Boy. Chris Morin, who performed the National Anthem during the ceremony, Jeff Wyzrowski, Alvin Bond, Monroe VFW post commander and district VFW officer, and Steve Mapes, associate professor of counseling are seated left to right.