Monroe County Community College's Health Sciences Division will hold two information sessions on its nursing education options on Dec. 1 in Room 165 of the Welch Health Education Building (Bldg. H).
The first session will be held from 11 a.m.-noon, and the second from 5-6 p.m.
The sessions are free and open to the public.
Prospective nursing students and their families are encouraged to attend one of these convenient opportunities to learn about the nursing education options at MCCC, including application deadlines and requirements, opportunities for concurrent enrollment with university partners and career opportunities.
MCCC offers the following academic tracks in nursing: Certified Nurse Aide, Practical Nursing, Registered Nursing and the P.N. to R.N. option, which allows those with a practical nursing certificate to continue their studies toward an associate degree in nursing.           
For more information, contact the Health Sciences Division at (734) 384-4102.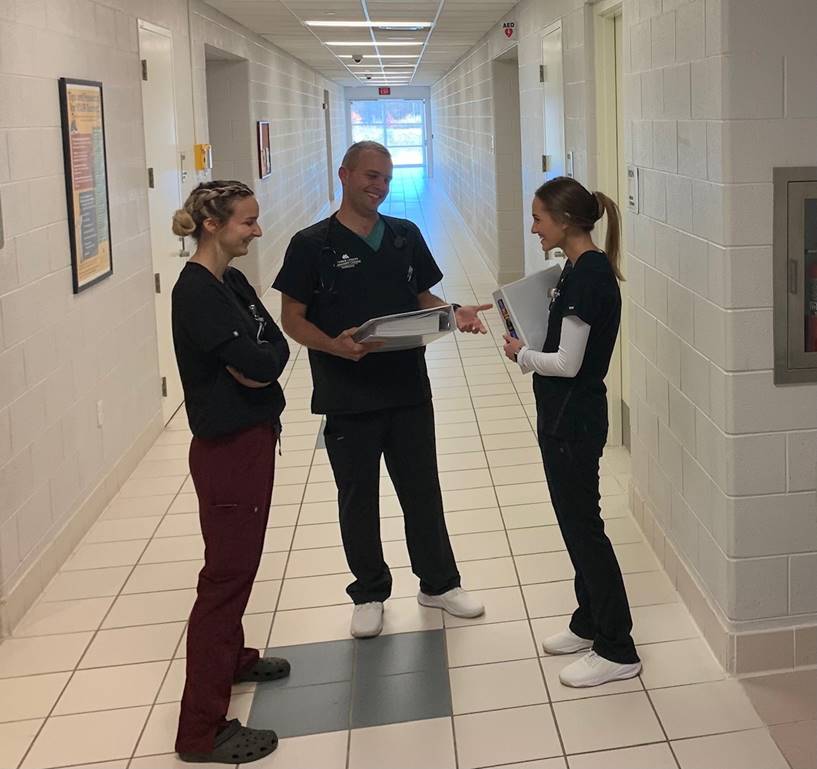 MCCC Nursing students chat in the hallway outside the nursing lab at MCCC.
About Monroe County Community College
Founded in 1964, Monroe County Community College is a public, two-year institution supported by tax monies from Monroe County, educational funds from the State of Michigan and student tuition.  The college's mission is to enrich lives in our community by providing opportunity through student-focused, affordable, quality higher education and other learning experiences.  The Main Campus is located at 1555 South Raisinville Road, Monroe, Mich., 48161, with easy access to Toledo and Detroit.  The Whitman Center is located in Temperance, Mich., 48182, near the Ohio-Michigan Border.  Detailed information about MCCC is available at www.monroeccc.edu.