CONTACT: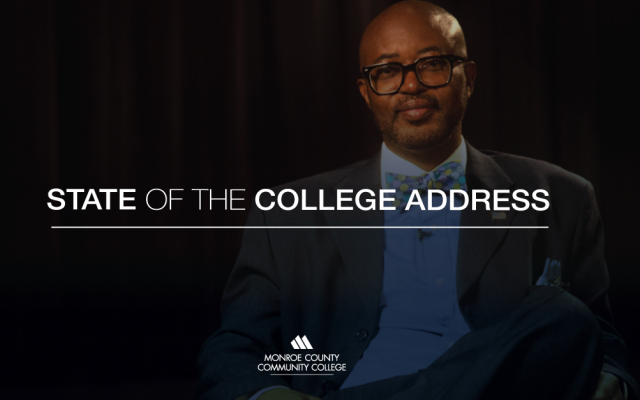 Joe Verkennes, Director of Marketing and Communications
Monroe County Community College
1555 S. Raisinville Rd., Monroe, MI  48161
(734) 384-4207 (O), (419) 343-3063 (M)
jverkennes@monroeccc.edu 
Monroe County Community College President Dr. Kojo A. Quartey will present the State of the College Address to the Community on May 24 at 7:30 a.m. via Zoom web conferencing. 
The event is open to the public. Log in at:
https://zoom.us/j/94291928319?pwd=Y3ZvTUQzWVFhNFpsbWx1SkpNd0FIQT09
Log in information is also available on the State of the College event page at https://www.monroeccc.edu/SOC.
Among the items covered during the address will be:
MCCC's 2020-2025 Strategic Plan
Successful accreditation visits from the Higher Learning Commission, Accreditation Commission for Education in Nursing and the Commission on Accreditation for Respiratory Care
MCCC's Maintenance and Improvement Millage
Increased credit and noncredit enrollment
Grants, donations and partnerships
Diversity, equity and inclusion planning and events
Distribution of emergency assistance to students via the Higher Education Emergency Relief Fund
New student services, such as the MCCC Food Pantry and mental health counseling
MCCC's continuing COVID-19 pandemic response
Statewide honors for various students in specific programs and organizations
About Monroe County Community College
Founded in 1964, Monroe County Community College is a public, two-year institution supported by tax monies from Monroe County, educational funds from the State of Michigan and student tuition.  The college's mission is to enrich lives in our community by providing opportunity through student-focused, affordable, quality higher education and other learning experiences.  The Main Campus is located at 1555 South Raisinville Road, Monroe, Mich., 48161, with easy access to Toledo and Detroit.  The Whitman Center is located in Temperance, Mich., 48182, near the Ohio-Michigan Border.  Detailed information about MCCC is available at www.monroeccc.edu.