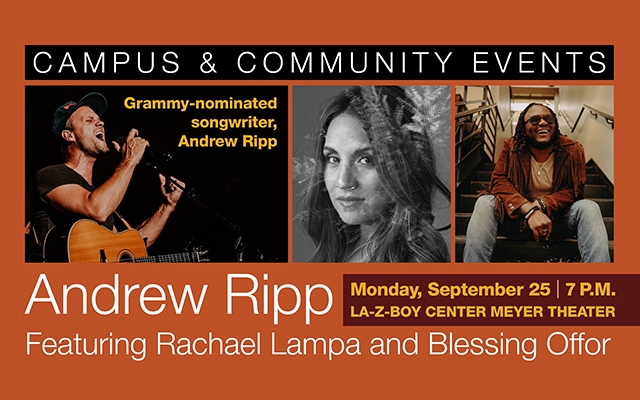 Grammy-nominated songwriter Andrew Ripp, along with Rachael Lampa and Blessing Offor, are bringing their national "Big Feelings" tour to Monroe County Community College on Monday, September 25, 2023 at 7 p.m.. 
The concert will be held in the xxx-seat Meyer Theater in the La-Z-Boy Center on the college's main campus, 1555 S. Raisinville Road, Monroe, MI. Tickets and ticket packages, ranging from $35 to $125, are on sale now at https://www.monroeccc.edu/events/andrew-ripp-big-feelings-tour.
The "Big Feelings" Tour is currently one of the hottest Christian music concert tickets arround. Fans have the unique opportunity to experience this three-performer concert in the intimate setting of the 575-seat Meyer Theater in the La-Z-Boy Center on the college's main campus 1555 S. Raisinville Road, Monroe, MI. 
Ripp, a Grammy-nominated songwriter, creates music that pushes the boundaries of genre stereotypes, blending the energetic beats of pop music into a soul culture and adding the depth and groove of soul music into a pop culture. Since beginning his career in 2005, Ripp's songs and records have successfully impacted a diverse and growing audience including true music lovers: fans that appreciate the nuances of a well-crafted album, and easy listeners who simply want to hear a catchy tune.
Singer and songwriter, Lampa, has had music industry success since she was 14 years old with multiple #1's, seven albums, TV appearances, and years of touring with the top Christian and mainstream artists. Nigerian-born Offor, who came to the U.S. as a child has been composing music since he was 10 years old, now makes his home in Nashville when he is not touring. 
The "Big Feelings" Tour is the first in what is sure to be a season full of interesting and wide-ranging entertainment opportunities for the region. The annual Cultural and Community Events Season at MCCC is made possible in part by donors to The Foundation at MCCC, including proceeds for The Foundation's Cultural Endowment Fund. 
About The Foundation at Monroe County Community College 
The Foundation at Monroe County Community College is the charitable organization dedicated to enhancing the educational and cultural experience of our students and community. 
The Foundation at MCCC leverages voluntary support from donors to enhance the educational, literary, scientific, and cultural experience by helping Monroe County Community College meet its mission. The Foundation at MCCC touches thousands of lives each year through cultural arts programs, scholarships, and educational initiatives that guide and shape the business and civic leaders of tomorrow. Just as important, The Foundation offers a means for individuals of all ages and walks of life to express their philanthropy, act on their concerns, and follow the dictates of their hearts. For more information about The Foundation at MCCC visit www.monroeccc.edu/foundation.
About Monroe County Community College
Founded in 1964, Monroe County Community College is a public, two-year institution supported by tax monies from Monroe County, educational funds from the State of Michigan and student tuition. The college's mission is to enrich and transform lives by providing opportunities and excellence in higher education.  The Main Campus is located at 1555 South Raisinville Road, Monroe, Mich., 48161, with easy access to Toledo and Detroit.  The Whitman Center is located at 7777 Lewis Ave.,Temperance, Mich., 48182, near the Ohio-Michigan Border.  Detailed information about MCCC is available at www.monroeccc.edu.