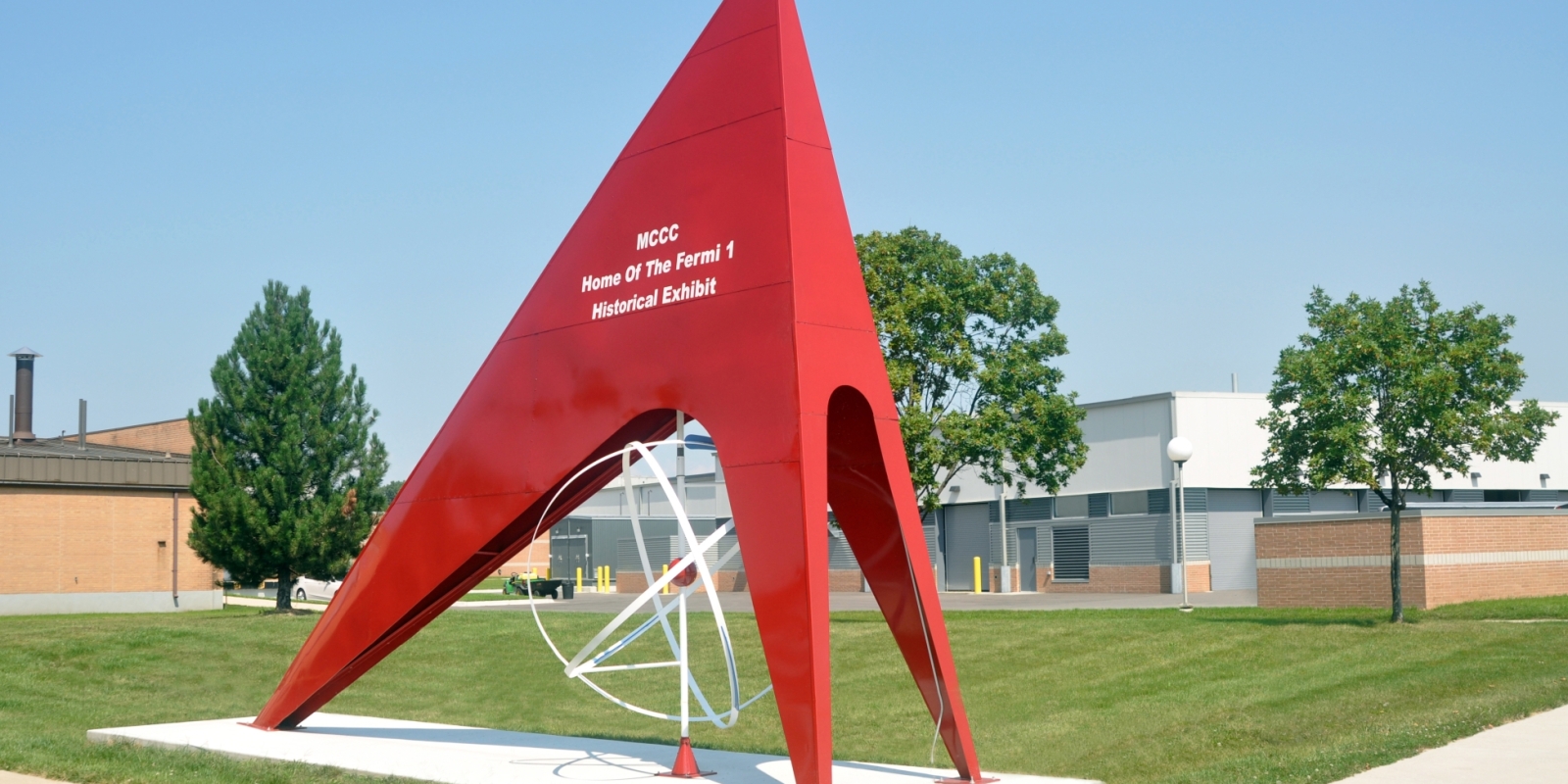 Monroe County Community College will host an open house for its Nuclear Engineering Technology program on May 15 that will feature a keynote presentation by DTE Energy's senior vice president and chief nuclear officer, Peter Dietrich, who will speak about the future of the nuclear energy industry.
The Nuclear Engineering Technology Program Open House will begin at 5 p.m. in the student concourse of the Career Technology Center, which is home to both the Nuclear Engineering Technology program and the Enrico Fermi Atomic Power Plant (Fermi I) Historical Exhibit. The Career Technology Center is located on MCCC's Main Campus, 1555 S. Raisinville Rd., Monroe.
Dietrich oversees nuclear operations at the DTE Energy's Fermi 2 nuclear power plant. His career in the commercial energy industry spans nearly three decades, including 25 years in the nuclear industry serving in high-level leadership roles. As the chief nuclear officer, Dietrich is responsible for overall operations at Fermi 2, with a strong commitment to safe and reliable operation.
At the open house, prospective students and visitors will be able to learn about Nuclear Engineering Technology program, careers in nuclear engineering technology and nuclear energy's role -- now and in the future -- in electricity production in the U.S. and the region. A question and answer session and tours of MCCC's facility will be provided.
The open house is free and open to the public, but registration is required. To register please go to monroeccc.edu/nuclear.
Other speakers at the open house will include MCCC President Dr. Kojo Quartey, MCCC Dean of Applied Science and Engineering Technology Parmeshwar (Peter) Coomar and DTE Energy HR Client Relations Senior Consultant Kristi McMahon.
MCCC and DTE Energy partnered to create MCCC's Nuclear Engineering Technology program 12 years ago. The program was established in response to increasing demand for highly skilled professionals in the nuclear power industry in the region, including DTE's Fermi 2 nuclear power plant.
"We use a learning approach that emphasizes both theory and hands-on skills to work in the technical environment of the nuclear industry," said Martin Dubois, associate professor of mechanical engineering technology at MCCC and instructional lead for the NUET program. "DTE employees were instrumental in creating the curriculum for the program and several instructors from DTE provide most of the direct instruction."
The associate of applied science degree with specialization in nuclear engineering technology at MCCC enables students to seek employment as nuclear engineering technicians in the nuclear power industry. Graduates of the program are prepared for entry-level employment as electrical technicians, instrumentation and control technicians and mechanical technicians.
With additional training, often provided by employers, graduates can be prepared for a position as a non-licensed operator, radiation protection technician or senior reactor operator. The program is based on the Nuclear Uniform Curriculum Program, a uniform standard administered by the Nuclear Energy Institute. Students who complete the program with an 80 percent score (B or better) in core classes qualify for the NUCP Certificate, which is recognized industry wide.
To register for the Nuclear Engineering Technology Open House, please go to monroeccc.edu/nuclear. For more information, please contact Coomar at (734) 384-4209 or pcoomar@monrooeccc.edu.
About Monroe County Community College
Founded in 1964, Monroe County Community College is a public, two-year institution supported by tax monies from Monroe County, educational funds from the State of Michigan and student tuition. The college's mission is to enrich and transform lives by providing opportunities and excellence in higher education.  The Main Campus is located at 1555 South Raisinville Road, Monroe, Mich., 48161, with easy access to Toledo and Detroit. The Whitman Center is located at 7777 Lewis Ave., Temperance, Mich., 48182, near the Ohio-Michigan Border.  Detailed information about MCCC is available at www.monroeccc.edu.
About DTE Energy
DTE Energy (NYSE: DTE) is a Detroit-based diversified energy company involved in the development and management of energy-related businesses and services nationwide. Its operating units include an electric company serving 2.3 million customers in Southeast Michigan and a natural gas company serving 1.3 million customers in Michigan. The DTE portfolio also includes non-utility businesses focused on industrial energy services, renewable natural gas, and energy marketing and trading. As an environmental leader, DTE utility operations will reduce carbon dioxide and methane emissions by more than 80% by 2040 to produce cleaner energy while keeping it safe, reliable and affordable. DTE Electric and Gas aspire to achieve net zero carbon and greenhouse gas emissions by 2050. DTE is committed to serving with its energy through volunteerism, education and employment initiatives, philanthropy and economic progress. Information about DTE is available at dteenergy.com, empoweringmichigan.com, twitter.com/dte_energy and facebook.com/dteenergy.