Recently Monroe County Community College held its graduation ceremony for 22 students of the college's chapter of the Phi Theta Kappa, the national honor society for community colleges.
Led by PTK President, Emily Klyder of Monroe, the following students were also recognized in the ceremony by PTK advisor Gerald McCarty, II, dean of students services at MCCC : 
Lisa Berry – Temperance, MI
Athena Bongard – Monroe, MI
Adam Bongard – Monroe, MI
Kylee Danish – Monroe, MI
Lyndsey Golen – Monroe, MI
Alaina Hartford – Maybee, MI
Jhalex Hernandez-Rodriguez – Monroe, MI
Jonathan Jablonski – Lambertville, MI
Joseph Jablonski – Lambertville, MI
Bret Leonard – Newport, MI
Jasmine Luallen – Monroe, MI
Jewell Mason – Monroe, MI
Jesse McDaniel - Monroe
Alexa McMullin – LaSalle, MI
Rachael Miska – Newport, MI
Shea Peare – Newport, MI
Kline Peare – Newport, MI
Lillian Runyon – Monroe, MI
Madison Sampson – Carleton, MI
Paige Smith – Carleton, MI
Mya Snow – Monroe, MI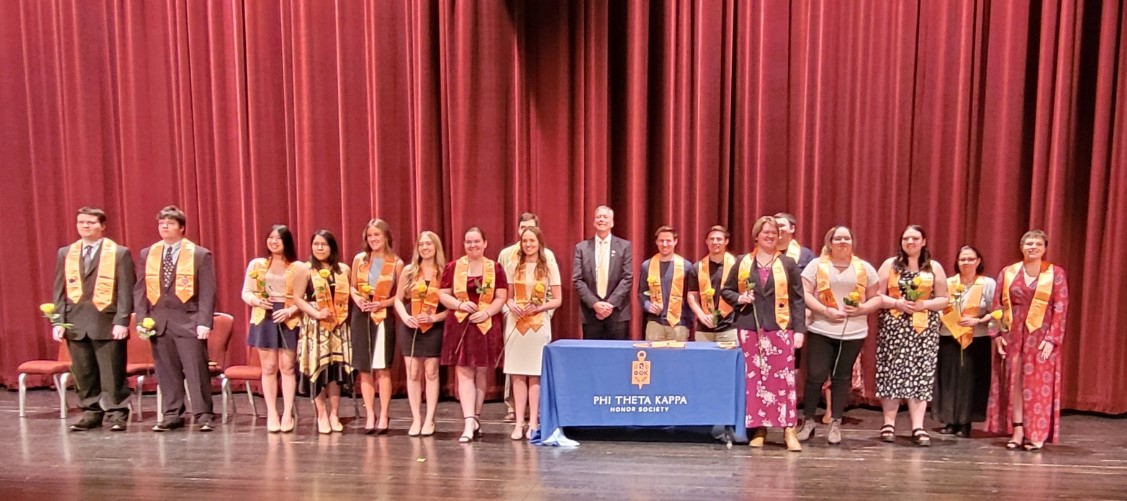 During the ceremony the graduates received their recognition stoles that will be worn during MCCC's Commencement Ceremony on Friday, April 28, 2023. The yellow stoles feature the PTK Key, which includes the society's Greek letters PTK,  representing wisdom, aspiration and purity; a wreath of oak leaves denoting stability and strength of character; curling leaves of laurel signify achievement and success; Athena, the goddess of learning; and and Greek mystic letters symbolizing the light of knowledge and learning. 
Founded in 1918, PTK is a scholarly fellowship which embraces the best students of community colleges in the state of Michigan, the nation and the world. Since it began the Society has nearly 3 million members. MCCC's PTK chapter was chartered on January 14, 1969, with four members. Since that time,  over 2,000 MCCC students have become members of PTK. Students must have completed at least 12 hours of coursework toward an associate or bachelor's degree or at least 6 hours of coursework toward a certificate credential, and have a cumulative 3.5 grade point average or higher. 
About Monroe County Community College
Founded in 1964, Monroe County Community College is a public, two-year institution supported by tax monies from Monroe County, educational funds from the State of Michigan and student tuition.  
The college's mission is to enrich and transform lives by providing opportunities and excellence in higher education.  The Main Campus is located at 1555 South Raisinville Road, Monroe, Mich., 48161, with easy access to Toledo and Detroit.  The Whitman Center is located at 7777 Lewis Ave.,Temperance, Mich., 48182, near the Ohio-Michigan Border.  Detailed information about MCCC is available at www.monroeccc.edu