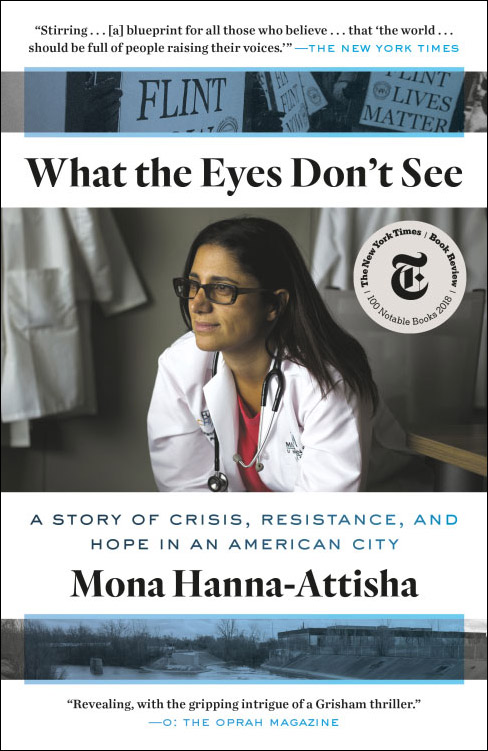 "If we stop believing that government can protect our public welfare and keep all children safe, not just the privileged ones, what do we have left? Who are we as a people, a society, a country, and a civilization?"
~ Mona Hanna-Attisha, What the Eyes Don't See

WHAT THE EYES DON'T SEE:  A STORY OF CRISIS, RESISTANCE AND HOPE IN AN AMERICAN CITY
by Dr. Mona Hanna-Attisha
Flint was already a troubled city in 2014 when the state of Michigan—in the name of austerity—shifted the source of its water supply from Lake Huron to the Flint River. Soon after, citizens began complaining about the water that flowed from their taps—but officials rebuffed them, insisting that the water was fine. Dr. Mona Hanna-Attisha, a pediatrician at the city's public hospital, took state officials at their word and encouraged the parents and children in her care to continue drinking the water—after all; it was American tap water, blessed with the state's seal of approval.
But a conversation at a cookout with an old friend, leaked documents from an environmental inspector, and the activism of a concerned mother raised red flags about lead—a neurotoxin whose irreversible effects fall most heavily on children. Even as circumstantial evidence mounted and protests grew, Dr. Mona knew that the only thing that could stop the lead poisoning was undeniable proof—and that to get it; she'd have to enter the fight of her life.
What the Eyes Don't See is the inspiring story of how Dr. Mona—accompanied by an idiosyncratic team of researchers, parents, friends, and community leaders—proved that Flint's kids were exposed to lead and then fought her own government and a brutal backlash to expose the truth to the world. Paced like a scientific thriller, this book shows how misguided austerity policies, the withdrawal of democratic government, and callous bureaucratic indifference placed an entire city at risk. And at the center of the story is Dr. Mona herself—an immigrant, doctor, scientist, and mother whose family's activist roots inspired her pursuit of justice.
What the Eyes Don't See is a riveting, beautifully rendered account of a shameful disaster that became a tale of hope, the story of a city on the ropes that came together to fight for justice, self-determination, and the right to build a better world for their—and all of our—children.
Sources: Penguin Random House, Mona Hanna-Attisha, and One Maryland One Book
Read an excerpt of What the Eyes Don't See (courtesy of Commonreads.com)    
Listen to an excerpt of What the Eyes Don't See read by the author
Follow Mona Hanna-Attisha www.monahannaattisha.com
Browse inside What the Eyes Don't See 
2019-2020 Great Michigan Read selection
2019 Reading Across Rhode Island (RARI) selection
2019 One Maryland One Book selection
2019 Michigan Notable Book, Author Biographies selection
2019 Los Angeles Times Book Prize finalist for Science & Technology
2018 New York Times' 100 Notable Books
2018 Great Lakes Great Reads Adult Non-Fiction Award
2017-2018 Gene E. and Adele R. Mallot Book Prize for Recording Community Activism
2019 Oprah Magazine's Top Books of the Summer
Washington Post bestseller
iBooks and Amazon Best Book of the Month
 "A stirring and personal account . . . For all her doggedness, Hanna-Attisha is a goofy, appealing, very human narrator. . . . Hers is the book I'd recommend to those coming to the issue for the first time; the crisis becomes personalized through the stories of her patients and their parents."—Parul Sehgal, The New York Times
"The Iraqi American pediatrician who helped expose the Flint water crisis lays bare the bureaucratic bunk and flat-out injustice at the heart of the environmental disgrace—revealing, with the gripping intrigue of a Grisham thriller, 'the story of a government poisoning its own citizens, and then lying about it.'"—O: The Oprah Magazine
"It's one thing to point out a problem. It is another thing altogether to step up and work to fix it. Mona Hanna-Attisha is a true American hero."—Erin Brockovich 
"A clarion call to live a life of purpose."—The Washington Post
"Gripping . . . entertaining . . . Her book has power precisely because she takes the events she recounts so personally. . . . Moral outrage present on every page."—The New York Times Book Review
"Personal and emotional. . . She vividly describes the effects of lead poisoning on her young patients. . . . She is at her best when recounting the detective work she undertook after a tip-off about lead levels from a friend. . . . 'Flint will not be defined by this crisis,' vows Ms. Hanna-Attisha."—The Economist
"Flint is a public health disaster. But it was Dr. Mona, this caring, tough pediatrician turned detective, who cracked the case."—Rachel Maddow 
"Mona Hanna-Attisha's account of that urban man-made disaster reads both as a detective story and as an exposé of government corruption. . . . Her book's message is that we each have the power to fix things, to make the world safer by opening one another's eyes to problems. Her book reinforced my belief that the first step to becoming a citizen activist is seeing the world as it should be, not as it is given to you."—The Seattle Times
"Essential for all readers who care about children, health, and the environment. This should be required reading for public servants as an incisive cautionary tale, and for pediatricians and youth advocates as a story of heroism in the ranks of people who have the capacity to make a difference."—Library Journal 
"She is an unlikely hero—a pediatrician who went up against the forces responsible for poisoning an American city, my hometown of Flint, Michigan. Yet because of her gentle but unrelenting perseverance, she brought the world's attention to this crime. A story of race, greed, and a crumbling democracy, What the Eyes Don't See is a brilliantly written book—may it help save every Flint in this country."—Michael Moore
"[A] powerful firsthand account . . . Hanna-Attisha's empathy for her patients and the people of Flint comes through, as do her pride in her Iraqi roots and her persistent optimism. . . . An inspiring work."—Publishers Weekly
"Told with passion and intelligence, What the Eyes Don't See is an essential text for understanding the full scope of injustice in Flint and the importance of fighting for what's right."—Booklist
This project is funded in part by Michigan Humanities, an affiliate of the National Endowment for the Humanities.