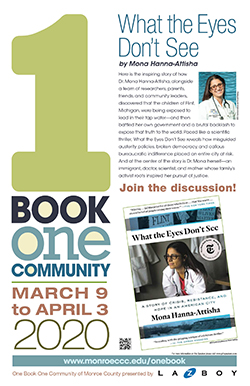 The One Book, One Community of Monroe County committee is pleased to announce the book choice for the 2020 program: What the Eyes Don't See: A Story of Crisis, Resistance, and Hope in an American City by Michigan author Mona Hanna-Attisha. 
Here is the inspiring story of how Dr. Mona Hanna-Attisha, alongside a team of researchers, parents, friends, and community leaders, discovered that the children of Flint, Michigan, were being exposed to lead in their tap water-and then battled her own government and a brutal backlash to expose that truth to the world. Paced like a scientific thriller, What the Eyes Don't See reveals how misguided austerity policies, broken democracy, and callous bureaucratic indifference placed an entire city at risk. And at the center of the story is Dr. Mona herself - an immigrant, doctor, scientist, and mother whose family's activist roots inspired her pursuit of justice.
The One Book, One Community of Monroe County 2020 Companion Read selected for Teen Readers is Dry by Neal and Jarrod Shusterman. The elementary/middle school Juvenile Reader selection is Max Einstein: Rebels with a Cause by James Patterson and Chris Grabenstein and the Picture Book selection is Say Something by Peter H. Reynolds.
Community members can meet Dr. Mona on Thursday, March 26, 2020 at a community talk and book signing at the Monroe County Community College La-Z-Boy Center.
There will be a series of community events planned around the theme What the Eyes Don't See.  The full slate of One Book, One Community of Monroe County events runs from March 9 to April 3, 2020.  All events are free to the community. Watch the Monroe News newspaper and this website for more details about the books selected and to follow the various events as they develop. 
Join the discussion!
ONE BOOK, ONE COMMUNITY OF MONROE COUNTY PRESENTED BY
The Foundation at Monroe County Community College
Monroe County Community College
Monroe County Library System
Monroe Publishing Company - Monroe News
Williams Insurance Agency
Airport High School
Monroe High School
Janel & Pete Boss
Jack Burns, Jr.
Dr. Valerie Culler
Mary Hamilton
Beverly Hammerstrom
Crystal Heft
John Holladay
Ida Branch Library Book Club       
Jack and Cheryl Johnston
Pamela Katschor
Terri Kovach
Suzanne Krueger
Patricia Malotke
Meadow Montessori School        
Michael Mieden
Linda Milford
Kenneth and Susan R.S. Miller
Rick & Ruth Montcalm
Karen Mulvihill Younglove
Wilma Nartker
Ann Orwin
Lonnie Peppler-Moyer
Rob & Debbie Sieb
Mary Steinhauser
Michele Toll
Jane Vankirk
Cindy Yonovich
This project is funded in part by Michigan Humanities, an affiliate of the National Endowment for the Humanities.