Teen Reader
Dry by Neal and Jarrod Shusterman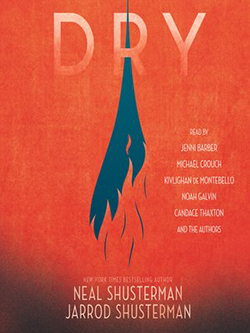 The drought - or the Tap-Out, as everyone calls it - has been going on for a while now. Everyone's lives have become an endless list of don'ts: don't water the lawn, don't fill up your pool, don't take long showers.
Until the taps run dry.
Suddenly, Alyssa's quiet suburban street spirals into a warzone of desperation; neighbors and families turned against each other on the hunt for water. And when her parents don't return and her life - and the life of her brother - is threatened, Alyssa has to make impossible choices if she's going to survive.
Climate Fiction genre. 
Juvenile Reader (5th grade and up)
Max Einstein: Rebels with a Cause by James Patterson and Chris Grabenstein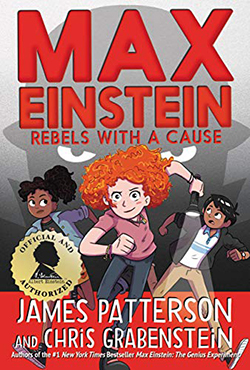 Max Einstein's typical day is not your average 12-year-old's. She - TEACHES classes at a New York college - Dodges KIDNAPPING attempts with her best friends - Goes on SECRET MISSIONS for her billionaire boss - Has a MYSTERIOUS CONNECTION to Albert Einstein. Just a day in the life of the Change Makers Institute's (CMI) top agent! What does an Irish town and a village in India have in common? A water crisis that only a group of kid geniuses can fix! Max and her CMI friends attempt to use their smarts to find solutions, but it's hard to save the world when you're trying not to be kidnapped! A greedy corporation with an eye on capturing Max seems to know their every move. It's almost like the bad guys have a spy inside the Change Makers.  Book Two of the Max Einstein Series. What Harry Potter did for magic, Max Einstein does for kids' imaginations in this #1 New York Times bestselling series!. Max Einstein is the first and only children's adventure series officially approved by the Albert Einstein Archives.
General Fiction genre.
Picture Book
Say Something by Peter H. Reynolds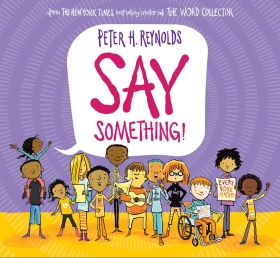 In this empowering new picture book, beloved author and illustrator Peter H. Reynolds explores the many ways that a single voice can make a difference. Each of us, each and every day, have the chance to say something: with our actions, our words, and our voices. Perfect for kid activists everywhere, this timely story reminds readers of the undeniable importance and power of their voice. There are so many ways to tell the world who you are... what you are thinking... and what you believe. And how you'll make it better. The time is now: SAY SOMETHING!  Written for young readers, children have the power to make a difference through their thoughts, voices and actions. Reynolds' text is lyrical and spare. His expressive illustrations feature diverse characters and will help kids see themselves. They will enjoy pouring over the detail and a fun word bubbles. Check out the endpapers.
Fiction genre.