As of March 21, 2022, students must apply and be accepted as a student at Monroe County Community College to schedule an appointment to take the Accuplacer test. When the student has received the acceptance email with their college email address and student ID number, he/she can call to schedule an appointment for placement testing.
The ACCUPLACER Placement Test is an untimed, computerized assessment test that helps to evaluate your skills in reading, writing and math and is used by MCCC's counselors to assist in course selection.  The ACCUPLACER Test should be taken seriously.  We recommend taking practice tests before attempting the Placement Test.
ACCUPLACER tests your knowledge in math, reading and writing. You can prepare for ACCUPLACER by taking advantage of the study tools and resources offered. Use these tools to become familiar with the types and format of ACCUPLACER test questions. They can help you identify the academic areas where you may need a little help, and prepare to improve.
TESTING IS BY APPOINTMENT ONLY (CALL 734-384-4255). PLEASE VISIT THE FOLLOWING LINK FOR MORE INFORMATION ON COVID-19 REQUIREMENTS WHEN COMING TO CAMPUS.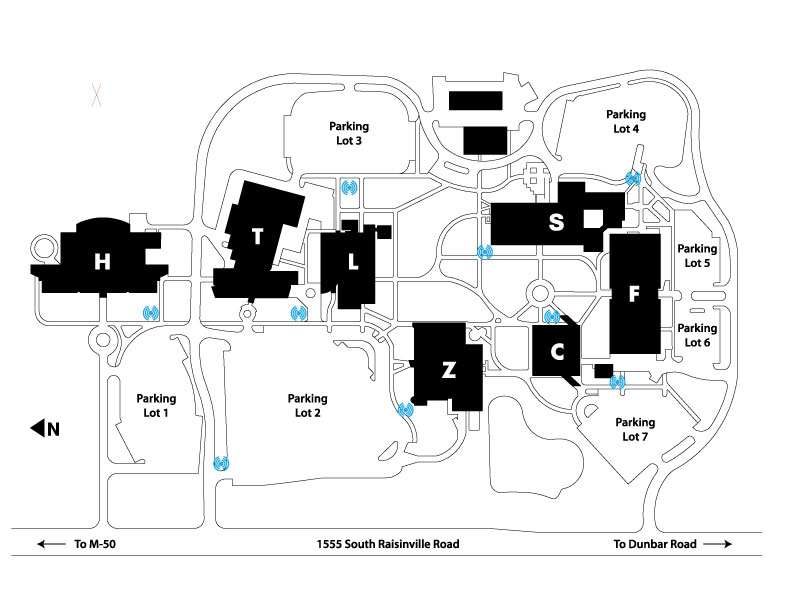 C: Campbell Academic Center
F: Founders Hall
H: Gerald Welch Health Education Building
L: Life Sciences Building
T: Career Technology Center
S: Warrick Student Center
Z: La-Z-Boy Center

  Emergency Call Stations