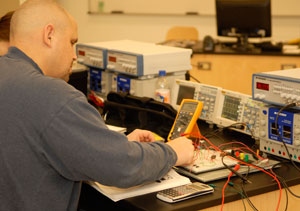 Curriculum/Degree Requirements
The associate of applied science degree with specialization in electrical engineering technology is designed to provide the theory and application of principles, procedures and components that technicians encounter in modern industrial environments. Graduates typically find employment as industrial electricians, engineering aides, laboratory technicians and field service representatives. Electrical apprentices will find this program to be an attractive way to utilize the credits they have earned while pursuing their journeyman status to complete an associate of applied science degree. Many graduates transfer to nearby universities that offer bachelor of engineering technology degrees or bachelor of applied science degrees on a "2+2" basis - two years at the community college and two years at the university. These graduates generally obtain engineering positions and often advance into management..
ELECTRICAL ENGINEERING PROGRAM MISSION STATEMENT
The Electrical Engineering Technology Program provides education in the theory and application of electronics enabling students to enter the workforce directly upon completion of an associate's degree or continue their education at a four-year college or university.
Program Outcomes
• Acquire and apply technical expertise in the areas of Circuit analysis, Analog electronics, Digital electronics, Microprocessors, and Communication systems.
• Utilize Virtual Instrumentation, Data Acquisition, Schematic Capture and Test and Applications software packages to refine skills and to analyze and design various electronic circuits.
• Develop and Demonstrate Problem Solving Skills.
• Develop a willingness to learn independently.
• Develop and demonstrate effective wiring and laboratory skills.
• Demonstrate Equipment/Instrumentation Competence
• Develop and demonstrate Technical Documentation/Lab Report writing skills and the ability to comprehend Technical Documentation including Schematic Diagrams
• Demonstrate effective Oral Presentation Skills
• Value Safety Training, Safe Work Practices and acknowledge Safety Standards
• Develop and demonstrate the synergistic relationship and integration of various technical and academic fields into the study of Electronics (i.e. Mechatronics)
• Design, Construct, and Troubleshoot AC and DC Motor Control Circuits and demonstrate an understanding of process control.
• Demonstrate a thorough understanding of DC and AC theory and operating concepts.
Electrical Engineering Technology Contact Information
Nien-Chu (Alex) Wan
Assistant Professor of Electrical Engineering
Phone Icon
(734) 384-4116
Building / Office Icon
T-139