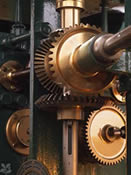 Curriculum/Degree Requirements
The associate of applied science degree with specialization in mechanical engineering technology offers individuals the opportunity to prepare for rewarding and responsible careers in support of technical and engineering activities. The mechanical engineering technology curriculum is based on engineering theory, but emphasis is placed on application, implementation skills and computer modeling. Coursework within the program includes automation, manufacturing processes, strength of materials, computer-aided drafting, computer-aided manufacturing, machine design, quality and thermodynamics. The rapid increase in the complexity of technology has produced a demand for professionals who have multi-disciplined applied technical skills. Our mechanical engineering technology graduates have skills to meet that demand.
MECHANICAL ENGINEERING PROGRAM MISSION STATEMENT
The Mechanical Engineering Technology program provides the students with relevant industrial experience within the academic environment through laboratory projects, experimentation, classroom lecture and demonstration leading to jobs in industry with short term industry recognized credentials, certificates, associate's degree or opportunity to continue at a four-year college or university.
PROGRAM OUTCOMES
• Identify and define problems in mathematic and scientific terms •Produce graphic representations of designs using CAD software, Solid Modeling software, and pencil and paper methods.
• Select materials and determine component sizes and shapes to meet design criteria.
• Apply instruments to make measurements and analyze data from such measurements.
• Identify typical mechanical components and explain their function.
• Apply fundamental manufacturing processes using manual and automated machine tools. •Recognize assumptions and limits of analysis to the application of technology, including social and ethical implications.
• Select and apply power generation and power transmission components including mechanical, pneumatic, hydraulic, thermal, and electrical types.
•  Recognize the need to engage in lifelong learning, and to perform research or conduct investigations to continuously upgrade knowledge and skills.
• Communicate effectively, and work as part of a team. As approved by the Mechanical Engineering Technology Advisory Committee.
Mechanical Engineering Technology Contact Information
Martin Dubois
Associate Professor of Mechanical Engineering Technology
Phone Icon
(734) 384-4120
Building / Office Icon
T-119