Monroe County Community College has been awarded a $10,000 grant from Fifth Third Bank to support the college's Volunteer Income Tax Assistance Program.
The announcement was made this afternoon at a news conference at MCCC's La-Z-Boy Center.
Through the VITA program, IRS-certified MCCC student volunteers provide free, basic income tax return preparation with electronic filing for low- to moderate-income taxpayers who generally earn $56,000 or less and need assistance preparing their own tax returns.
The grant from Fifth Third Bank will be used for the following:
Stipends for MCCC student site coordinators who have a year of experience in the VITA program and are willing to return to mentor new student volunteers;
Operational support for promotional materials, on-site signage, tablet computers, scheduling software and uniforms; and
Potential expansion of the program to underserved communities in Monroe County via "Virtual VITA" sites at locations such as community centers and churches
The VITA program is available on select Fridays in March and April in the college's Career Technology Center.  Dates and hours of operation are announced in late February each year.  Financial Coaching workshops are also available on site to provide information about goal setting, budgeting, saving and using income tax returns as a way to achieve financial goals. The workshops are provided by Habitat Hope (Home Owner Preparation and Education). The HOPE program also provides Financial Capability, Home Buyer and Foreclosure Prevention workshops.
"Since the establishment of our VITA program two years ago, the MCCC site has prepared nearly 200 tax returns for those in the area who meet the income threshold for free tax preparation," said MCCC President Dr. Kojo A. Quartey.  "This program provides valuable assistance to people in our community, as well as relevant, hands-on educational opportunities for our students."
For more information about the VITA program at MCCC, go to https://www.monroeccc.edu/volunteer-income-tax-assistance-program.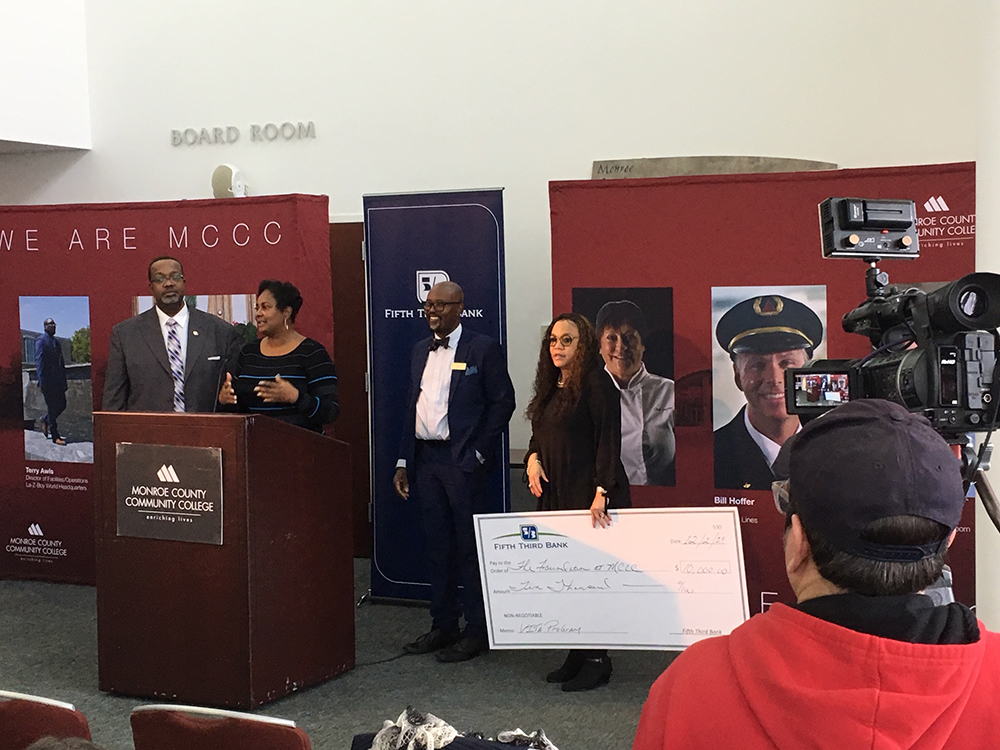 From left, Jason Paulateer, senior vice president, market manager – North Region, Fifth Third Bank; Parnella Baul, associate professor of accounting, Monroe County Community College; Dr. Kojo A. Quartey, president, MCCC; Tawnya Rose, vice President/CED Manager 1, Fifth Third Bank
About Monroe County Community College
Founded in 1964, Monroe County Community College is a public, two-year institution supported by tax monies from Monroe County, educational funds from the State of Michigan and student tuition.  The college's mission is to enrich lives in our community by providing opportunity through student-focused, affordable, quality higher education and other learning experiences.  Its vision is to be recognized for student-focused service, academic excellence, affordability, innovation, community responsiveness and student success. 
The Main Campus is located at 1555 South Raisinville Road, Monroe, Mich., 48161, with easy access to Toledo and Detroit.  The Whitman Center is located in Temperance, Mich., 48182, near the Ohio-Michigan Border.  Detailed information about MCCC is available at www.monroeccc.edu.
About Fifth Third
Fifth Third Bancorp is a diversified financial services company headquartered in Cincinnati, Ohio and the indirect parent company of Fifth Third Bank, an Ohio-chartered bank. As of June 30, 2019, Fifth Third had $169 billion in assets and operated 1,207 full-service Banking Centers and 2,551 ATMs with Fifth Third branding in Ohio, Kentucky, Indiana, Michigan, Illinois, Florida, Tennessee, West Virginia, Georgia and North Carolina. In total, Fifth Third provides its customers with access to approximately 53,000 fee-free ATMs across the United States.  Fifth Third operates four main businesses: Commercial Banking, Branch Banking, Consumer Lending and Wealth & Asset Management.  Fifth Third is among the largest money managers in the Midwest and, as of June 30, 2019, had $399 billion in assets under care, of which it managed $46 billion for individuals, corporations and not-for-profit organizations through its Trust and Registered Investment Advisory businesses. Investor information and press releases can be viewed at www.53.com.  Fifth Third's common stock is traded on the Nasdaq® Global Select Market under the symbol "FITB."  Fifth Third Bank was established in 1858. Deposit and Credit products are offered by Fifth Third Bank. Member FDIC.
###