At a special meeting yesterday, the Monroe County Community College Board of Trustees voted to approve a Master Agreement between the Community College District of Monroe County and the MCCC Faculty Association. The Master Agreement was ratified by the Faculty Association on Monday.
The contract was approved by a trustees' vote of 4-0 and covers all full-time, non-administrative faculty positions at the college.
Linda Torbet, MCCC director of human resources, said the contract runs through August 24, 2025, and includes:
An increase in the number of yearly steps on the salary schedule from 12 to 15
A change in the salary structure to standardize the step increases annually to 3.25 percent for steps 1 through 12 and 2 percent for steps 13 through 15
A one-time, off-schedule payment of $1,000 to full-time faculty already at step 12
A reduction of the number of work days in the 38-week contract year from 162 to 160
A change in the contract year for professional counselors in the Admissions and Disability Services areas from 160 work days over 38 weeks to 160 work days over 52 weeks
A change to the start and end dates for the Winter Semester, with classes to begin and end a week later to accommodate for more time for students to enroll
An upgrade to dental and long-term disability insurance plans
MCCC President Dr. Kojo A. Quartey recommended the trustees' approval of the contract, which he said is a significant recognition of the college and faculty working together to responsibly deal with challenging economic times.
Board members present for the meeting were Aaron N. Mason, chair; Krista K. Lambrix, vice chair; Julie Edwards, trustee, and Mary Kay Thayer, trustee. Absent were Florence M. Buchanan, secretary; Lynette Dowler, trustee, and Nicole Goodman, trustee.
The complete contract will be posted soon in the Finance and Operations section of the college's website, www.monroeccc.edu.
Update: Mark Bergmooser, Monroe County Community College Faculty Association president, and Dr. Kojo Quartey, MCCC president, signed the Master Agreement between the college and the faculty union on July 20.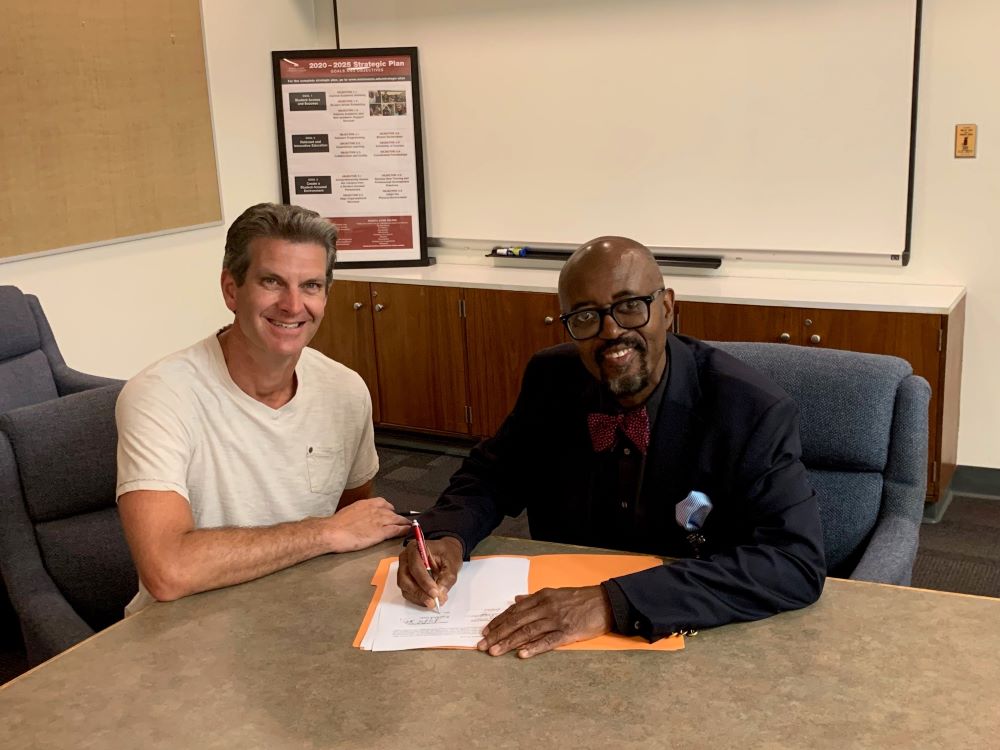 The contract is posted in the Transparency section of MCCC's website at https://www.monroeccc.edu/finance under "Employee Contacts." It is also posted, along with other labor relations updates, in the Labor Contacts and Updates section of the website at https://www.monroeccc.edu/human-resources/labor. 
Here is a direct link to the contract: https://www.monroeccc.edu/sites/default/files/policies-procedures/5.03%20Faculty%20Master%20Agreement%202022-2025.pdf
About Monroe County Community College
Founded in 1964, Monroe County Community College is a public, two-year institution supported by tax monies from Monroe County, educational funds from the State of Michigan and student tuition. The college's mission is to enrich lives in our community by providing opportunity through student-focused, affordable, quality higher education and other learning experiences. The Main Campus is located at 1555 South Raisinville Road, Monroe, Mich., 48161, with easy access to Toledo and Detroit. The Whitman Center is located in Temperance, Mich., 48182, near the Ohio-Michigan Border.  Detailed information about MCCC is available at www.monroeccc.edu.