August 2022

Upcoming Events

How to Succeed in College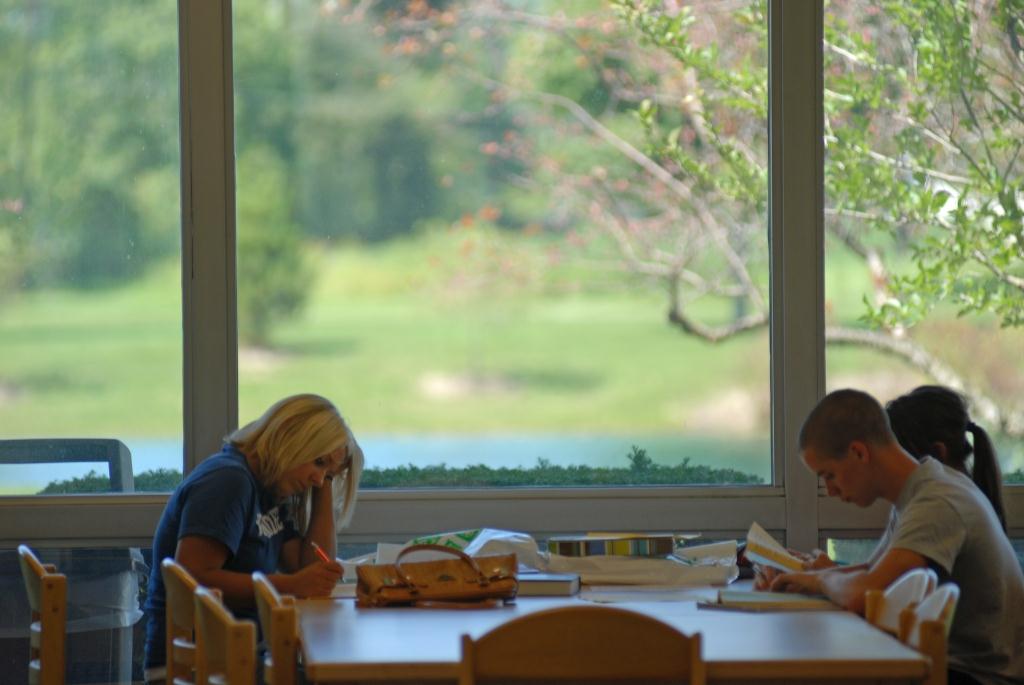 If you are new to MCCC, welcome, and if you are a continuing student, welcome back.  The first days of the fall semester play an integral part in how the rest of the year may go. Here are a few suggestions to start the year off right.
Take the time to get to know your faculty. Your faculty are your best resource for success and they want you to succeed.  No one knows how to succeed in a course better than the professor. All faculty have office hours; utilize this time to introduce yourself, ask questions and find out more about their professions.
Get involved, join a club, participate in college activities, and form a study group. Research supports that students who get involved and participate in events and activities on campus are more likely to succeed in the classroom.
Develop a plan to succeed. Schedule study times and stick to them. MCCC has invested heavily in ensuring you have great places to study and do your work.
Don't miss class. The rule here is simple, students who do not miss class tend to do better than those who do. If you do miss a class inform your instructor before the class and discuss what you need to do.    
Get to know your fellow students, and make friends. Students who make friends on campus tend to be more motivated and have more social and academic support. 
Do not wait until you are in trouble to get help. Make regular appointments in our Student Success Center. MCCC offers free tutoring and skills help for all students. 

Campbell Academic Center Opens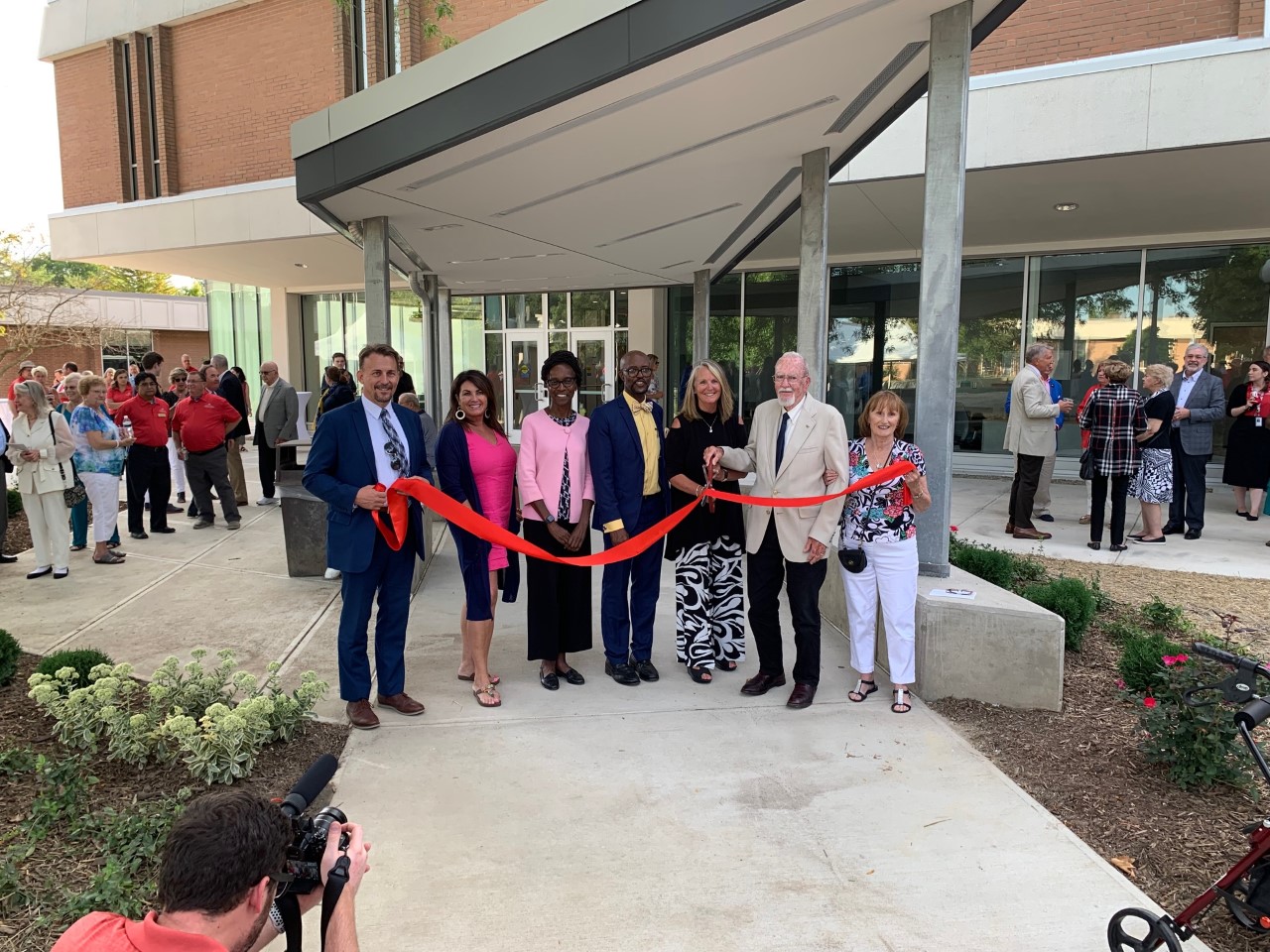 Students will begin taking classes in the newly transformed Campbell Academic Center on August 24, the first day of Fall Semester.  
Among the updates are the addition of numerous student study rooms and collaboration spaces; physical and technological improvements to classrooms, including the addition of an active learning classroom and computer lab; the addition of a writing lab, student media lab and an art gallery for students and the public; a transformation of the library into an expanded Learning Resources Center that creatively merges access to traditional library services with media and instructional support, as well as collaborative learning spaces; a renovation of the building's small theater, and the addition of new entryways, exterior seating "walls" and outdoor gathering areas.
With the renovation, the facility now has 53,279 square feet of space, an increase of 1,015 square feet, all of which was added to the first floor. The project cost $11.6 million, all of which was funded by the Maintenance and Improvement Millage passed by Monroe County voters.  
"The new Campbell Academic Center is a facility intentionally designed for students and their success," Lynette Dowler, MCCC Board Chair, said. "It has been transformed into a center for collaborative learning and educational exploration that is wholly focused on the needs of today's student, as well as students of the future."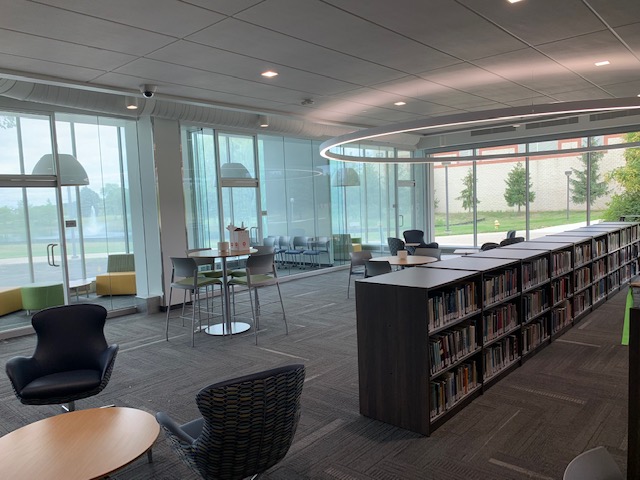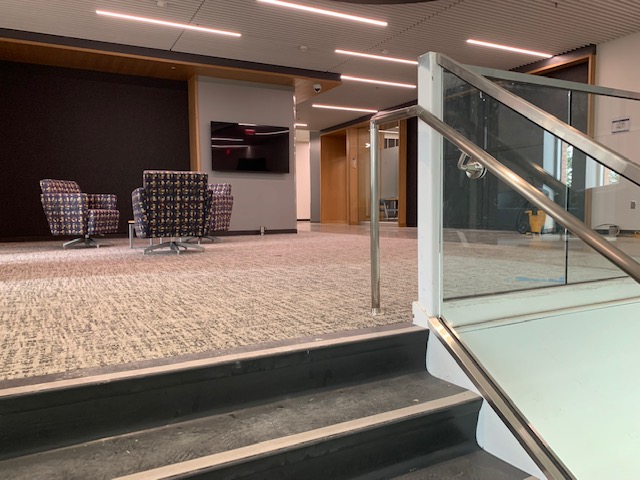 Student Survey - Lunch on the quad or the atrium?
Monroe County Community College has a picturesque campus, which begs the question: Where's the best place to have lunch? A survey was sent out to students to ask that very question. Two options were given: 1) The central campus mall area, or 2) The open-air courtyard in the Warrick Student Center
The central campus mall came in first with 17 votes.  The courtyard was close, with 15. The student body decided that they prefer to have hillside picnics and it isn't hard to see why. 
Be sure to try them both , and send in your thoughts and future survey suggestions to steelghost22@gmail.com to possibly have your topic chosen for next month's issue of MCCC's "The Happenings Newsletter".

Help Wanted: Paid Student Assistant Positions Available
Need a convenient job while completing your degree? Balancing school and work can be difficult, but MCCC has a solution. If you want a job that's flexible and provides valuable, hands-on experience, becoming a student assistant may be the answer. A student assistant can work up to 20 hours per week depending on the need of the hiring department and the student's schedule. 
The basic guidelines to become a student assistant employee are:
Enroll in a minimum of 6 credit hours for the current semester.
Register with the Office of Workforce Development www.collegecentral.com/monroeccc. 
Login to College Central to view available student assistant positions.
Complete the Online Student Assistant Application Form (online or paper copy).
Drop it off to room 286 in the La-Z-Boy Center or email it to workforce@monroeccc.edu.
The application will be forwarded to the appropriate department or division for review.
Preference is given to Federal Work Study eligible applicants.
For additional information about the Office of Workforce Development or information on how to register, contact Rebecca Fournier 734-384-4243 or Barry Kinsey 734-384-4124, email workforce@monroeccc.edu, or visit in person. 

Interested in Joining the Honor Society for Two-year Colleges?
Phi Theta Kappa is an international college honor society designated for two-year higher learning institutions. More than 3.5 million students are members, and each day more and more join in pursuit of reaching their fullest academic potential. Members have access to many benefits including but not limited to:
Scholarships

Up to $90 million in scholarships to assist in completing an associate, bachelor's and master's degrees
Access to $46 million in transfer scholarships offered by nearly 800 four-year colleges and universities across the country
Awards specifically for career-bound students, including some field-specific opportunities that cover the cost of certification exam fees

Recognition

Phi Theta Kappa Golden Key membership pin
Phi Theta Kappa Membership certificate
Recognition during chapter induction ceremony
Press release announcing your academic achievement
Letters of recommendation citing your membership

Member discounts

Dell
BetterHelp
National Car Rental
Enterprise Rent-A-Car
Bartleby
Lenovo
Hurst Review Services
To be eligible, students must maintain a 3.5 cumulative GPA and have completed a minimum of 12 hours of course work towards an associate/bachelors degree or at least 6 hours of coursework towards a certificate of one year. For more info, go to the Phi Theta Kappa website or contact Gerald McCarty, MCCC's director of student success at gmccarty@monroeccc.edu.

Not a strong writer? Try a writing fellow!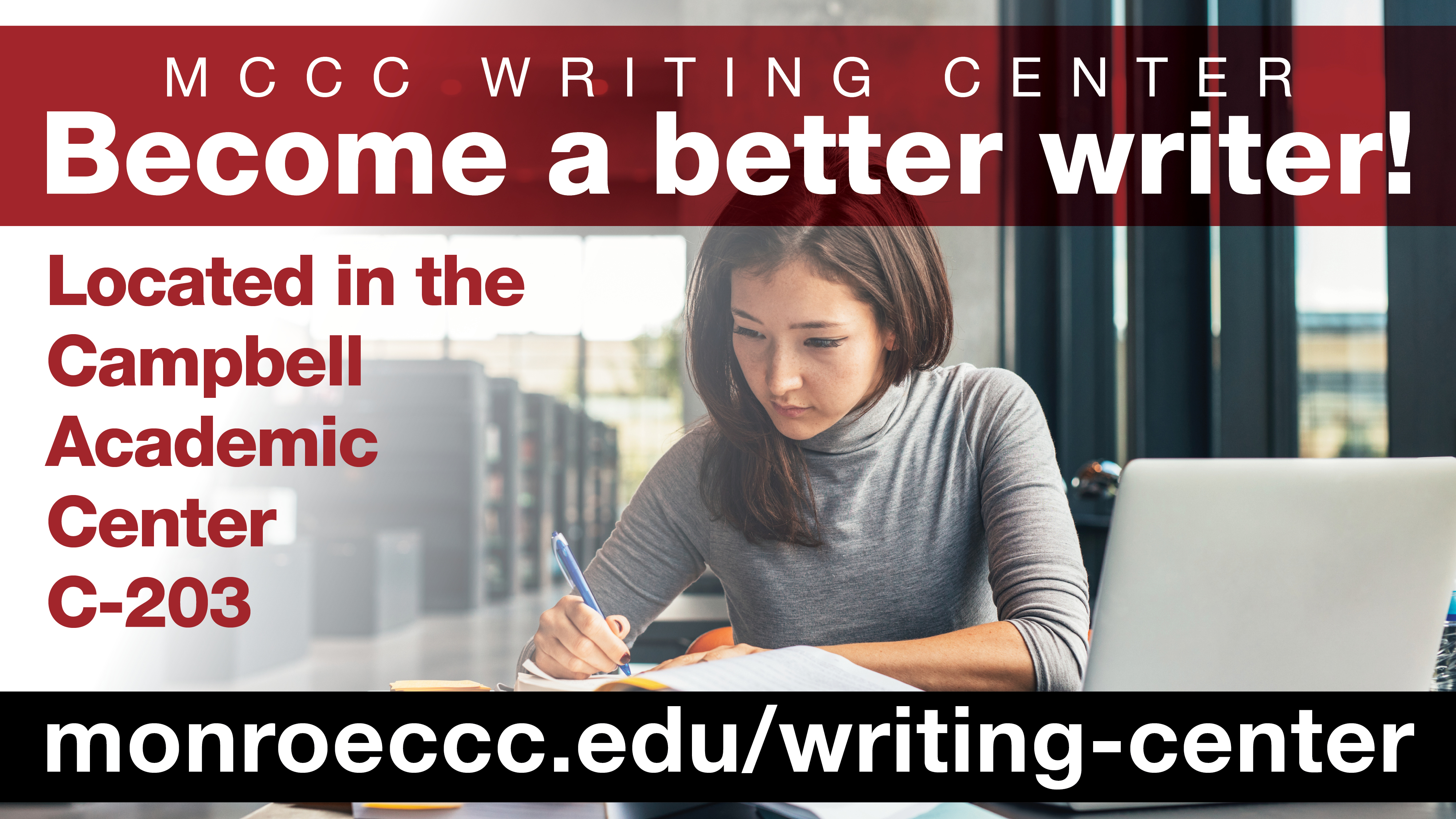 Writing tutors (called writing fellows) are available to students as a free service at MCCC.
They are available to assist with writing projects, presentations and a variety of communications assignments. Students can be at any stage in the process (ranging from brainstorming to drafts) when they schedule an appointment. It is best to bring the assignment instructions and all related work to the appointment. 
To schedule an appointment, go to the MCCC tutoring webpage.
Some of the writing fellows are working in Founders Hall and others are tutoring virtually. Students will need to check their student email account to receive confirmation for their appointment and a Zoom link for virtual meetings. Appointments are typically 45 minutes to 1 hour.
Writing fellows look for revisions in organization, development, support and unity and will suggest ways to properly cite sources to avoid plagiarism. They do not proofread, make corrections in grammar and spelling, or do rewrites of a paper. The student is exclusively responsible for final changes to an assignment.

Student Mental Health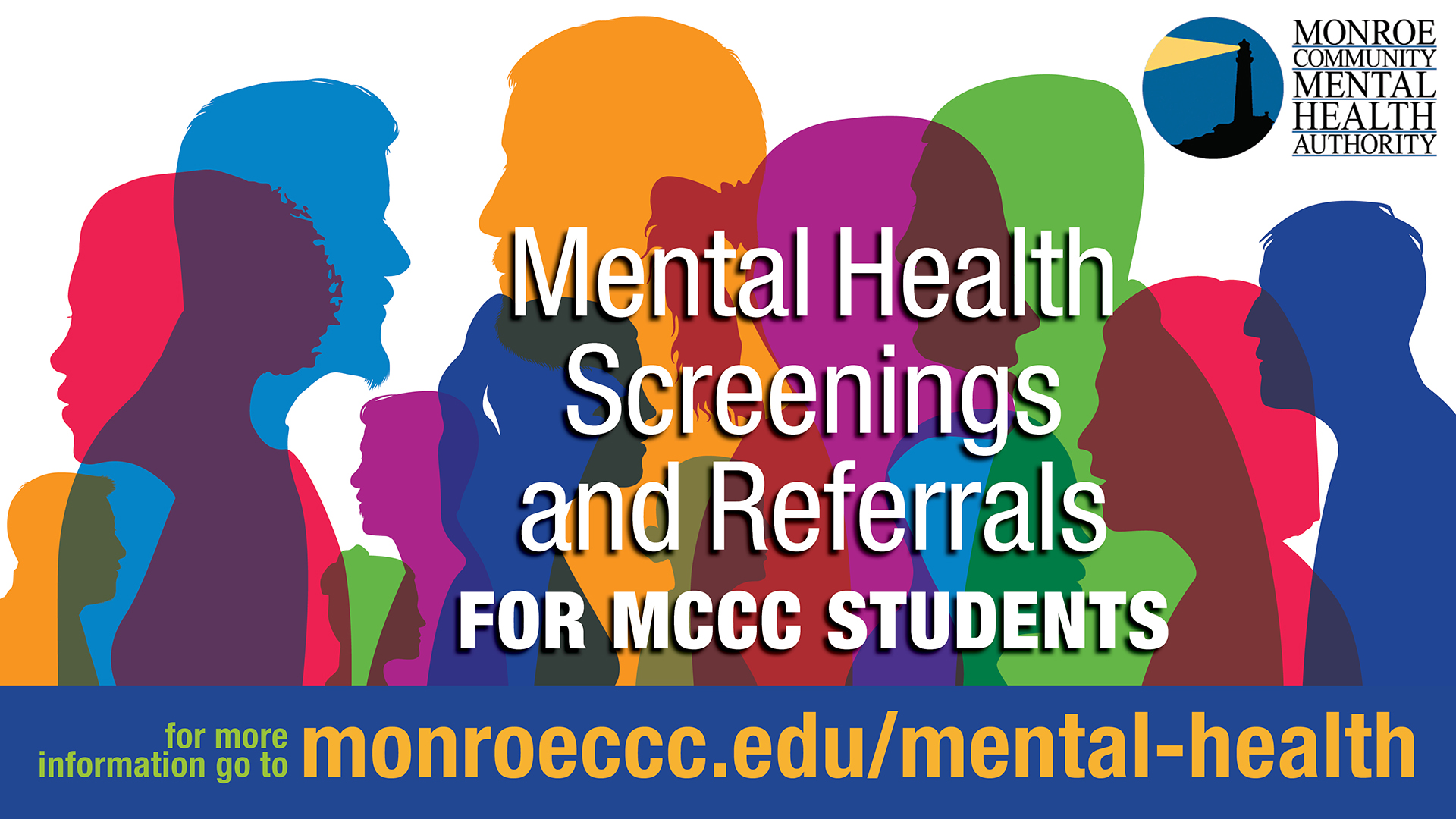 MCCC has partnered with the Monroe Community Mental Health Authority to provide mental health screenings and referrals to students.
Coordination of the following services is provided:
Mental health screening
Referrals
Crisis prevention and intervention
Advocacy
Linking and coordination of the following resources are provided:
Counseling / Therapy
Health services
Financial Assistance
Housing
Social Services
Other services and natural supports
For info on how to access services and for hours, go to the MCCC Mental Health webpage. 
24-hour services/Crisis: Please call the Monroe Community Mental Health Authority. After-hours, on-call staff is available to respond to crisis. Call the toll-free crisis phone: 1-800-886-7340. TDD/TTY: 1-800-886-7340.