NOTICE:
Due to the COVID-19 pandemic, Monroe County Community College has moved back the application deadline for the Registered Nursing program by slightly more than a month. The application deadline will now be July 6.  It was originally June 1.
NursingProcess.org has ranked Monroe County Community College's Registered Nursing program No. 1 in Michigan for 2020. Learn more about MCCC's Registered Nursing Program.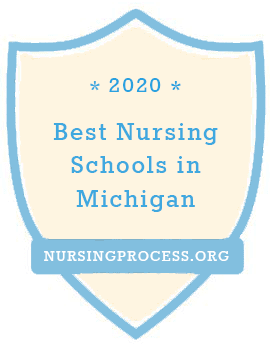 The associate of applied science degree with specialization in nursing prepares graduates to function as beginning registered nurse practitioners and members of the health care team in the care of acutely and chronically ill individuals with common illnesses. Registered nurses are qualified for employment in structured practice settings, including acute care hospitals, extended care facilities, nursing homes, clinics and physicians' offices. With experience, nurses may also participate in providing skilled care in more specialized areas, including psychiatric units, emergency departments, pediatric and obstetric units, critical care units and home health settings. Job pay is exceptional, averaging $64,000 annually for practicing nurses, according to the Bureau of Labor Statistics, and is a flexible and mobile career choice.
Upon program completion, students will be prepared and eligible to apply for licensure in the State of Michigan. Students must meet the Michigan Board of Nursing eligibility requirements and successfully pass the National Council Licensure Exam (NCLEX-RN) in order to become a licensed registered nurse.
Program Approval
The MCCC Registered Nursing Program is fully approved through the Michigan Board of Nursing.
Michigan Board of Nursing
Department of Licensing & Regulatory Affairs
PO Box 30004
Lansing, MI 48909
(517) 373-1820
Michigan Board of Nursing
Program Accreditation
Accreditation Commission for Education in Nursing (ACEN)
3343 Peachtree Road, Suite 850
Atlanta, GA 30326
404-975-5000
www.acenursing.org
Licensure
The Board of Nursing can be contacted at:
Bureau of Health Professions
Board of Nursing
611 W. Ottawa
P.O. Box 30670
Lansing, MI 48909-8170
Or by e-mail at bhphelp@michigan.gov
RN Skills Lab
Hours of Operation
Monday: 7:30 a.m.-5 p.m.
Tuesday: 7:30 a.m.-3 p.m.
Wednesday: 7:30 a.m.-3 p.m.
Thursday: 7:30 a.m.-5 p.m.
Friday: Closed
Please see the attached monthly schedules for Friday and/or Saturday open lab dates/times.
Please check the Master Lab Calendar above for times when the lab is closed during hours of operation.
Associate Degree Nursing Transfer Criteria For Generic ADN Program
The following transfer criteria will apply only if there is space available for additional student(s) in NURS 105/110, NURS 204/205, or NURS 208.
The student who is a nongraduate of an R.N. program and who left the program in good standing may receive transfer credit for NURS 103, 105/110, 204/205, and 210 providing the following criteria are met.
Nursing credit to be transferred must be no more than two years old by the scheduled starting date for the next nursing course. Residency requirements for MCCC must be met for graduation. (Currently at least 15 credits at MCCC.)
 
The student may be asked to successfully pass a validation examination (skills, mathematics, written theory) for the nursing course(s) to be transferred.
 
Anatomy and Physiology must be transferable to MCCC and must be no more than five years old if receiving credit for Biology 157 and 158. If the student must take Biology 158, the Biology 157 equivalent course must be no more than two years old.
 
The student must meet all current MCCC RN admission criteria (see current Registered Nursing Admission Verification Worksheet) 
 
The student must provide the college with a letter of recommendation from the director of the nursing program of the transferring institution indicating that the student has not been dismissed from the program for academic or disciplinary reasons.
 
The student must provide the college with official transcripts showing successful completion of the course(s) to be transferred for credit.
 
The student must provide the college with detailed outlines for the course(s) to be transferred. The content must be comparable or exceed our requirements for Nursing 103, 105/110, 204/205.
 
All support courses, which come before the nursing course the student is entering, must be completed and transferable to MCCC.
 
The student must be CPR certified (see CPR Proficiency policy in Student Information Handbook) and show evidence of health insurance prior to admission for nursing courses.
 
Students must comply with all health requirements outlined in the Student Information Handbook. 
 
Students will be required to complete a random drug screen and must abide by the Drugs, Intoxicants, and Mind Altering Substances policy in the Student Information Handbook.
 
Additionally, a criminal background check with finger printing will be done. Any criminal convictions will be reviewed. Students should know that criminal convictions of any sort may prevent clinical placement in the program, licensure attainment, or employability in the field. Subsequently, prior criminal convictions may prevent successful program admission.
 
Students seeking transfer into the program will not be considered if they have applied to the MCCC Nursing program for either of the last 2 admission cycles.
 
By the end of the first nursing course, the student must demonstrate satisfactory clinical and academic performance or the student will be dropped from the program.
 
Maximum time to complete program:
 

Entering program: 

Numbers of 
semesters to
complete program:

NURS 105 / NURS 110

5 Semesters

NURS 204 / NURS 205/ NURS 210

3 Semesters

NURS 208

2 Semesters

The deadline for applying for transfer to the MCCC Nursing Program is April 15 for Fall semester and October 15 for Winter semester each academic year.
Nursing, Registered Contact Information