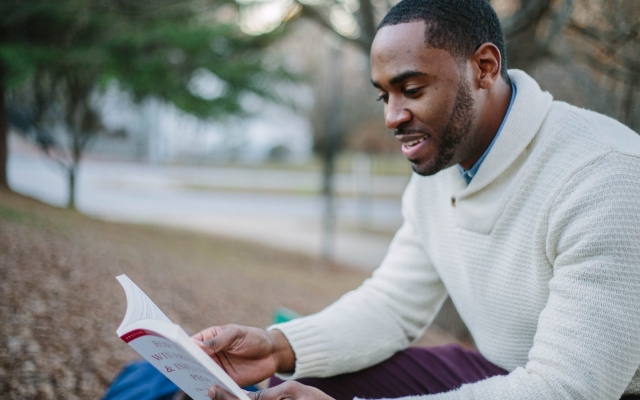 Has it been a long time since you've been a student? Take the chance – why not you? Why not now? 
College can be tough, but it can also be one of the most rewarding decisions you ever make. A college degree will give you greater employment opportunities, earning potential and personal satisfaction. You should be proud that you are taking the first steps!
And, there are a lot of others just like you on MCCC's campus. In fact, about 25 percent of MCCC students are over the age of 25, and 15 percent are over the age of 30.
Convenience for Busy Adults
Monroe County Community College understands that adult students have a lot going on, and juggling going to college with a full-time job and family commitments can seem like a daunting endeavor. That's why MCCC is so focused on being flexible and responsive.
We offer courses during the evening and on weekends, and we offer plenty of online and blended course sections.  Many MCCC degree programs allow students to complete the majority of the coursework online, and some can be completed totally online. With two convenient physical locations, MCCC is within easy reach for students throughout Southeast Michigan and Northwest Ohio.
Getting Started
Submit the online application for admission as a new MCCC student. 
If you were a dual enrollment student in the past, you do not need to re-apply for admission. Just contact the Admissions and Guidance Office at (734) 384-4104 to set up an appointment with an advisor.
Please request any official high school transcripts, any official college transcripts and any ACT/SAT scores to be submitted to the Admissions Office.
These items need to be completed on campus.  If you have a disability or need accommodations, call the Learning Assistance Lab (734) 384-4167 to set up an appointment with a Disability Services counselor.
MCCC requires that new students complete the Accuplacer Exam or have appropriate scores on the ACT/SAT.  The Accuplacer exam identifies current skill levels in math, English, and Reading and could impact which courses in which you may enroll.  Please visit the Testing Center on the Main Campus, which is located in the La-Z-Boy Center. Call (734) 384-4255 for a schedule of testing times. Testing is also available at the Whitman Center in Temperance in Room 1. Call (734) 847-0559.
All new students are required to meet with a counselor in the Admissions and Guidance Office in Room A101 to review placement and/or ACT or SAT scores and discuss course selections.  Call (734) 384-4104 for an appointment.  Registration periods are as follows:  Fall Semester – April through start of classes; Winter Semester – November through start of classes; Spring/Summer Semester –March through start of classes. 
Tuition must be paid by the payment due date or at the time of course registration. MCCC offers a variety of payment options:
Pay online through your myWebPAL Student Registration and Planning Account (You'll set this up when you meet with your counselor.)
Pay in person at the Cashier's Office in Building A.
Sign up for our convenient Tuition Payment Plan through your myWebPAL account.
Remember, your reserved seat in a class will be dropped if you don't make a payment by the due date. See Important Dates below.
All of your books and supplies are available through the MCCC Bookstore.  Students are able to purchase or rent their books at the bookstore or online. The MCCC Bookstore is located in room A141 on Main Campus. Bring your class schedule from your myWebPAL account with you, and you'll be ready to go.
MCCC offers online and in-person orientation programs.
REGISTER FOR NEW STUDENT ORIENTATION (IN-PERSON SESSION)
Congratulations!
You are now ready to start your classes at MCCC and a step closer to reaching your goals!
Important Dates to Remember